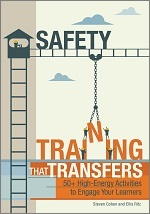 Alexandria, VA (PRWEB) November 13, 2014
Safety training can save lives and money—and it doesn't have to be boring. That's the premise of a new book from ATD Press, "Safety Training That Transfers," by safety training experts Steven Cohen and Ellis Ritz.
The book begins with startling statistics: In 2012, according to the Bureau of Labor Statistics, private industry employers reported close to 3 million nonfatal workplace injuries and illnesses. Employers pay nearly $1 billion each week for workers' compensation costs. Unfortunately, a good deal mandatory safety training—the kind of training needed to shrink these statistics—relies heavily on lectures, an approach that has only a five percent retention rate, according to the National Training Laboratories.
"Safety Training That Transfers" was written to shake up the status quo.
While often neglected, safety training can entertain, energize, and breathe life into serious topics, argue the authors. Good safety training can also foster relationships among colleagues and boost morale.
Cohen and Ritz, who collectively have 50 years of experience working in dangerous settings, promote action-based training, something they see at work every day. In this book, they share training successes with professionals across industries, especially those working with heavy machinery and in hazardous settings.
This book offers icebreakers, brainstormers, and comprehensive activities that equip trainers across industries with tools to deliver effective workshops that promote knowledge transfer.
About the Authors
Steven Cohen and Ellis Ritz are the co-founders of Meyvn Global, an international training and development firm that serves the mining, heavy equipment manufacturing, construction, and oil and gas industries.
About ATD Press
ATD Press is a division of the Association for Talent Development and is an internationally renowned source of insightful and practical information on workplace learning, training, and professional development. Learn more at http://www.td.org/books.