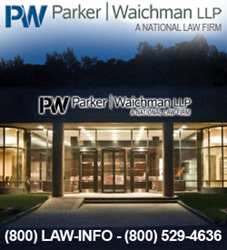 Port Washington, New York (PRWEB) November 14, 2014
Parker Waichman LLP, a national law firm that represents whistleblowers in qui tam cases, comments that a whistleblower has come forward to discuss allegations involving JPMorgan Chase activities concerning its mortgage operations. The case is Federal Housing Finance Agency v. JPMorgan Chase & Co., 11-06188, U.S. District Court Southern District of New York (Manhattan).
According to a Rolling Stone Magazine report dated November 6, 2014, following its investigation into the matter, Alayne Fleischmann is a key witness in one of the largest white collar crime cases in United States history, and has alleged that JPMorgan Chase Chief Executive Officer (CEO), Jamie Dimon, paid $9 billion in late 2013 to keep the public from learning about securities issues. In 2006, Ms. Fleischmann allegedly witnessed and attempted to put an end to what she described as a "massive criminal securities fraud" in the bank's mortgage operations. Ms. Fleischmann is an attorney and a former JPMorgan Chase employee who chose to break her anonymity as a confidential informant in this matter.
According to Parker Waichman LLP, whistleblowers have been crucial to detecting and stopping fraud. This settlement agreement enforces the message that actions will be taken against companies that commit fraud and other wrongdoings.
Last November, the U.S. Department of Justice announced that JPMorgan Chase agreed to pay $13 billion to settle claims that it had routinely overstated the quality of the mortgages it was selling to investors. The settlement, which was later finalized at $9 billion, would enable the financial institution to avoid criminal charges, according to a November 7, 2014 Democracy Now report.
According to Attorney General (AG) Eric Schneiderman, as reported in Democracy Now, JPMorgan Chase, will pay the largest settlement against a financial institution in history and admitted in the AG's statement of facts that JPMorgan Chase, Bear Stearns, and Washington Mutual staff made material misrepresentations to the investing public concerning a significant number of residential mortgage-backed securities issued prior to the 2008 crash. AG Eric Holder previously indicated that JPMorgan Chase packaged loans it knew did not pass internal due diligence; the whistleblower indicated that she expressed her concerns regarding the strength of the mortgage-backed securities. According to AG Holder, JPMorgan's conduct and the conduct of other banks conducting business in similar ways, directly led to the collapse of the U.S. economy in 2008 and in 2009 by creating investor doubts and the housing crisis.
The False Claims Act provides whistleblowers with protection and the ability to be compensated for their work. Passed in 1863 during the Civil War, the Act includes various amendments added in 1986 that increased damage and penalty amounts meant to drive whistleblowers to come forward, notes Parker Waichman LLP. With whistleblower awards ranging to between 15-30 percent of damage and penalty amounts, whistleblowers may receive millions of dollars in awards.
The Dodd-Frank Whistleblower Law enables whistleblowers who report a securities fraud complaint to remain anonymous when working through a whistleblower attorney. In fact, not only is a whistleblower attorney necessary for whistleblower confidentiality, your attorney may help to increase the award size. Also under the Dodd-Frank Whistleblower Law, anonymity is maintained until a cash award is paid. Once the award is paid, the whistleblower name must be released. The obvious benefit under the law is that, should the Securities Exchange Commission (SEC) opt against pursuing a securities fraud action, the whistleblower name will never be released.
Not only are whistleblowers critical to ending illegal employer activities that may cause harm to consumers and may involve fraud against the government, under certain circumstances, whistleblowers may maintain their anonymity during most of the whistleblower process, according to Parker Waichman LLP.
Parker Waichman LLP supports efforts to protect whistleblowers and offers free legal evaluations to those individuals who believe their companies may be involved in wrongdoings. If you believe that fraudulent activities are being committed by your employer or other entity and would like to maintain your anonymity, we encourage you to contact us at the firm's Whistleblower page at yourlawyer.com or call 1-800-LAW-INFO (1-800-529-4636).