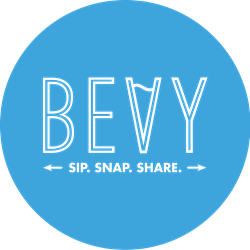 We hope Bevy helps bring people together by enhancing the social experience.
New York, NY (PRWEB) November 14, 2014
Bevy Social – The New Mobile Application for Beverages
Bevy was clearly built with a vision...to create a vibrant social network for people who love all kinds of beverages: beer, wine, spirits, coffee ... and heck even Kombucha. The founders want people to be able to express themselves, their morning routines, nightlife adventures or even their healthy rituals via the drink they enjoying. People from all over the world are already using Bevy to capture their memories and share their drink explorations with friends.
How does it work? Users select their drink, snap a photo, tag friends and write a quote. Presto! the beginnings of a great Memento. One can browse the Mementos of others. If they see one they like they can swipe and see other similar posts from other Bevy users drinking the same thing. Don't know what to drink? Bevy will make recommendations based on the time of day and the drinks that are trending. Users can create custom lists of drinks so that they never forget that Pinot Noir they had on their honeymoon 5 years ago ever again.
Bevy's leadership and their development team work very closely so that they may create a sustainable social network. They are doing this by creating an ecosystem that elicits participation from all areas of the beverage industry. This includes consumers, brands, bars, restaurants, coffee houses, baristas, bartenders, distributors and etc.. They want their users to be able to pursue their interest to whatever degree they wish.
Bevy is ever evolving. The co-founders have said that there will be more powerful, intuitive and fun features over the coming months that users will surely love. With Bevy, users can be part of their friends great drink moments, follow trending drinks and most importantly share their experiences with their social network.
Bevy was founded by Adam Richichi and Michael Ripa. Both Adam and Mike are from Long Island. Adam directs the vision of Bevy as its CEO and Mike leads all development efforts as CIO. Both are young professionals, MBA's and innovation junkies. According to Mike, "Bevy is all about the user, we want to make this app very engaging, easy to use and worth your time." Adam also added, "We hope Bevy helps bring people together by enhancing the social experience."
###
To learn more, please check out http://www.BevySocial.com. For inquiries, please contact them at Adam(at)bevysocial(dot)com.