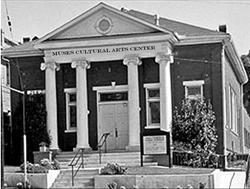 Little Rock, AR (PRWEB) November 13, 2014
The Muses Project is offering art and music lovers two opportunities to encounter the Muses in one week: "Autumn in Art & Song" on Nov. 13 and the Muses Quarterly Seasonal Seminar: "The Benefits of Flow" on Nov. 15.
At 6:30 p.m. on Thursday, Nov. 13, the Muses will present, "Autumn in Art & Song" at the Muses Cultural Arts Center, 428 Orange St. All are invited to come and experience the rhythm, colors and majesty of autumn through this multimedia program that blends vocal and instrumental art songs with classic poetry and slides of fine art works that depict the beauty of the fall season.
This Muses concert, originally titled "Mind, Body & Spirit," was designed for the opening performance of the Walton Arts and Ideas Series held at the University of the Ozarks, and was performed and well-received by a very appreciative audience at the Acansa Arts Festival in Little Rock this past September.
Muses founder, general director and classically-trained soprano Deleen Davidson, accompanied by accomplished pianist Kristen LaMadrid, will perform beautiful art songs sung in five different languages from varied musical periods. Muses own Toni Spears will read autumnal-themed poems from famous poets such as Elizabeth Barrett Browning, Goethe, Herman Hesse, Paul Bourget, Robert Frost and others. Beautiful projected images of famous artworks by renowned artists spanning four centuries and multiple nationalities, including local artists Richard Stephens and Bill Garrison will visually transport attendees through the autumn season. The cost is $15 at the door, and artists and students are free.
On Saturday, Nov. 15, please join the Muses for their quarterly seasonal seminar, "Power of Flow" from 10 a.m. to 1 p.m. at the Muses Cultural Arts Center. The morning starts with tai chi lead by Jerry Matlock, who will then expound on the many benefits of tai chi as he is also the seminar's featured artist. Following lunch, Muses life coach Toni Spears will present a talk on the "Benefits of Flow," the effortless concentration that brings joy to the artist, worker or life-liver.
A $10 offering is requested to offset the cost of lunch. Please call the Muses at 501.609.9811 to make a reservation. For more information about these Muses events, please call the Muses or visit their website at http://www.themusesproject.org.
About the company:
The Muses Creative Artistry Project is a 501(c)(3) non-profit arts organization dedicated to preserving classical art and music through performance and education. They believe that classical artistic education and high-quality cultural experiences through live performance are crucial to a well-rounded and healthy community. Each year, The Muses presents a series of concert events aligned with the four seasons, and performed at various regional venues. Fine art, music, and spoken word are presented at each program, representing different artistic disciplines and styles. Various seminars and workshops allow participants to experience creative renewal and deeper understanding of their own need for artistic expression and balance in their lives. This blending of fine art, classical music and creativity education can have profound effects on the participants and in the community at large.