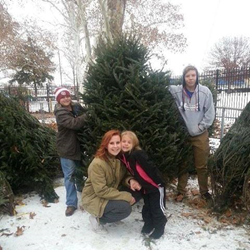 Duncan, OK (PRWEB) November 25, 2014
The Duncan Chisholm Trail Kiwanis Club has been serving the Duncan community for over 90 years, with members from all walks of life and at every step of the career ladder. Kiwanis Club members are unified in their belief that children and their community benefit from the efforts of a proficient group of caring and involved volunteers.
The Kiwanis Club annual Christmas Tree Sale will be in Kiddieland Park again this year. Choose from six varieties of top-quality fresh cut trees as well as tree life nutrient, tree stands and Kiddieland Park tickets for great stocking stuffers! Christmas trees can be purchased from the lot beginning on November 25th-December 16th but is closed for Thanksgiving Day. Hours of operation will be weekdays 2pm-8pm, Saturdays 10am-7pm and Sundays 1pm-5pm. All proceeds from the Christmas tree sales go toward Duncan Kiwanis Club's civic projects as well as helping the children and youth in the community. Some of the community service projects that the local Kiwanis Club are active in include the Children's' Fun Fair, Christians Concerned, The Dehydrator, Duncan Rescue Mission, and March of Dimes.
The Duncan Chisholm Trail Kiwanis Club's most visible and loved presence in Duncan is Kiddieland at Fuqua Park, which provides low cost entertainment for children. In operation for over 50 years it features a time-honored amusement park atmosphere. Kiddieland Park is known for providing a truly generational experience, as grandparents delight in taking their grandchildren to the same park they once enjoyed as children themselves. The park includes a Train, Tilt-A-Whirl, Merry-Go-Round Carousel, Airplanes, and a Sno-Cone Stand. It is open seasonally beginning Memorial Day Weekend. Open May - August on Thursday and Sunday Nights from 7:00 PM - 9:00 PM and Friday and Saturday nights from 7:00PM - 10:00PM. Kiddieland is open for private parties May thru September. The parties are $35 per ride, per half hour, with a 3 ride minimum. For more information, or to book your party, please contact: Cindy Edwards at 580-467-7210 or Dina Atnip at 580-470-5861. For general information please contact the Duncan Convention and Visitors Bureau at 1-800-782-7167 or http://www.duncanok.org.