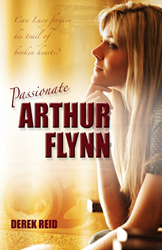 Lust, romance, and the occult combine to make this enthralling novel a must read.
(PRWEB) November 21, 2014
Arthur has always clung to the notion of having one woman in his life, but dangerous liaisons, amorous women, and a sprinkling of witchcraft conspire to confuse the "Passionate Arthur Flynn".
With the help of his mother, Arthur earns a place at Cambridge University to work toward becoming a doctor. But between paying for university and his living expenses, finances are a struggle, so he becomes an early morning milkman. Making morning deliveries certainly won't interfere with his studies … or so he thinks!
Arthur soon finds himself doing more than just delivering milk. He becomes a listener, adviser, confident, and, reluctantly, the heartthrob of the local women. Lust, romance, and the occult combine to make this enthralling novel a must read.
"I found this book to be an interesting read for many reasons. The first is the rock 'n' roll years historical value. Ever wanted to know what '50s youth really got up to? Now's your chance. I am a bit of a stickler for historical accuracy, so I checked Cambridge City out to make sure the facts in the book were right. I am pleased to say they were, and a fun day I had, as Cambridge is beautiful, King's college is awesome, and the copper kettle tea rooms across the way do a mean black cherry cheesecake. Being a woman, I was both fascinated and frustrated by the antics of Arthur Flynn. Men can be so dumb at times when it comes to romance. Best of all, there is a twist to the tale." – Google reviewer
"I can recommend this book as a very good read…It would make a great film." – Google reviewer
About the Author
Raised in Huntingdon, England, Derek Reid now lives in a small town in North Wales. He is currently working on a children's book and the sequel to Passionate Arthur Flynn.
Author's website: http://www.arthurflynn.com
Book Details
Genre: Fiction / Adventure
Author: Derek Reid
Format: Paperback, 224 pages
Pub date: September 2014
"PASSIONATE ARTHUR FLYNN" (Kindle ISBN: 978-1-60693-190-5, e-Book ISBN: 978-1-60693-190-5) is available for $9.99 at , or Amazon Kindle, Barnes & Noble Nook, and in multi-formats for other e-Readers through numerous vendors online.
The soft cover/hard cover version (ISBN: 978-1-60693-891-1, $14.95) can also be ordered through the publisher's website: http://www.eloquentbooks.com/PassionateArthurFlynn.html, Amazon, or the website of Barnes & Noble.
WHOLESALERS: This book is distributed by Ingram Books and other wholesale distributors. Contact your representative with the ISBN for purchase. Wholesale purchase for retailers, universities, libraries, and other organizations is also available through the publisher; please email bookorder@sbpra.net.
Strategic Book Publishing and Rights Co, LLC