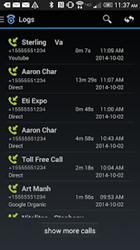 Sales teams, call centers, and even management are as distributed as ever. They need to be able to respond to leads, make outbound calls and stay on top of how their teams are performing in real-time so they can make quick course corrections. ~Todd Fisher
Severna Park, Maryland (PRWEB) November 15, 2014
CallTrackingMetrics, one of the leading providers of call tracking software, has announced today the release of their Android app. The app shows all inbound and outbound phone calls coming into an organization in real time allowing managers and advertising agencies to keep track of the performance of campaigns and agents. In addition to seeing the advertising channel that led to each phone call, users can review call recordings, caller identification, and detail like the keywords the caller searched online. This technology allows businesses to stay on top of how everything (and everyone) is performing remotely.
About CallTrackingMetrics:
CallTrackingMetrics, founded in 2008 by Todd and Laure Fisher, was launched to assist advertising agencies and businesses track which advertising sources were converting into phone calls. They have developed a unique algorithm to match exact website visitors to phone calls. CallTrackingMetrics has since evolved from a small phone call tracking company to an international leader in the industry; providing in depth call cracking services to over 6,000 companies in over 30 Countries worldwide, and have tracked millions of phone calls.
CallTrackingMetrics has gained much of its popularity for their excellent customer service, easy to use software and ability to integrate with major services such as Google Analytics, Adwords, Salesforce, Optimizely and Wordpress.
Download the Android app or Apple app.