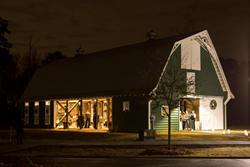 The open-air format is appropriate to the architecture of the building, and the resulting space is really versatile. It's an authentic space, and it works well for a wide range of community needs.
Summerville, SC (PRWEB) November 14, 2014
The historic Green Barn at Carnes Crossroads (c. 1920), has come to life again, this time as an iconic venue for a diverse and growing array of events in the developing master planned community of Carnes Crossroads, located in the heart of the bourgeoning Goose Creek and Summerville area of Charleston. Relocated from its former site on the 2,400-acre property, the barn now sits in the heart of the new community's first neighborhood and has been carefully renovated as an open-air pavilion that serves as a perfect venue for all kinds of resident and community events and gatherings.
"The barn was the only significant structure on the property remaining from its former ownership, and we chose to turn it into a focal part of the community," says Matt Sloan, President of the Daniel Island Company, the developer Carnes Crossroads. "We considered using it for many things, but in the end a structure that residents could use, and the community could use, made the most sense."
Only recently completed, the Barn has already been the site of neighborhood block parties, farmers' markets, children's birthday parties, private candle-lit cocktail receptions and even a wedding. During the week, residents gather here for yoga classes and other programs organized by the community's Property Owners' Association.
"The open-air format is appropriate to the architecture of the building, and the resulting space is really versatile," says Sloan. "It's an authentic space, and it works well for a wide range of community needs."
The development team worked with Stubbs, Muldrow, Herin Architects of Mt. Pleasant, SC to find solutions to keep as many of the original architectural details intact as possible, and reused materials that couldn't be sustained for their original use. Examples include a hay trolley in the roof peak that helped hoist hay bales, and ventilators on the roof -- both of which were restored and preserved to maintain authenticity, even though they no longer have functional use.
The Green Barn is among a variety of amenities that have already been introduced at Carnes Crossroads. A pool, neighborhood park, playground and recreational trails are all part of the lifestyle offerings that are being enjoyed by residents, and a series of large lakes and additional parks and trails are in the design and development phases. New medical offices are under construction in what will develop as the community's commercial district, which encompasses almost three miles along the two main roadways that connect Carnes Crossroads to Summerville and Goose Creek. Planned to accommodate retail businesses, shopping, restaurants, services, offices and other conveniences, this commercial district will serve residents at Carnes Crossroads and the surrounding areas.
As Carnes Crossroads continues to develop, the Green Barn will stand as an iconic reminder of the community's past and a central gathering place where new traditions will emerge.
"The Barn has long been a landmark in Goose Creek," says Sloan. "We're proud to have it front and center within our new community."
About Carnes Crossroads:
Carnes Crossroads is a 2,300-acre master planned community that is evolving the heart of Charleston's growth. Planned as a significant residential and commercial center for Summerville and Goose Creek, it is home to traditional southern-style architecture, tree-lined neighborhood streets and a diverse and growing array of amenities. The parks, trails and lakes at Carnes Crossroads are being carefully integrated with space for retail businesses, corporate offices, medical facilities, schools and churches to create an authentic small-town community. The ownership and development team behind Carnes Crossroads is also responsible for the highly successful 4,000-acre community of Daniel Island in Charleston.