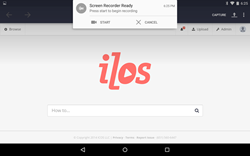 We wanted to make it easy for everyone to record and share their screen on any device.
St. Paul, MN (PRWEB) November 15, 2014
With the recent release of Lollipop - Google's endearing nickname for the latest version of their Android 5.0 operating system - came the ability to record your mobile screen without jailbreaking your device. As soon as Lollipop was rolled out, the market saw it's first app to use this ability: ilos.
ilos, a startup that already specialized in desktop video capture and sharing, saw a perfect opportunity to take their expertise and make a really simple app. "As soon as we heard that Android finally allowed mobile screen recording, we immediately jumped into development mode," says co-founder, Sean Higgins.
Nick Stokman, the company's other co-founder, offered up his take: "I was pumped. This has always been something that makes sense for our company. We wanted to make it easy for everyone to record and share their screen on any device."
"Easy" has always been the operative word for ilos. Their application is built with minimalism and simplicity in mind. Just open the app and press Capture Screen to bring up a Start button.
The floating Start button follows you to any screen, so you can wait to get to where you want to be before beginning. Then, just press Start.
Once you're done recording, simply press Stop, and you can share your video on all of the social media platforms you'd expect.
In response to their app's recent success (2500+ downloads in first 5 days and growing steadily) ilos has decided to offer the chance to win one of the newest Nexus devices. This way you can check out Android 5.0 and it all has to offer: including the ilos mobile app.
You can enter to win on their contest page.