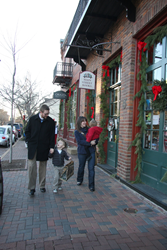 Jefferson City, MO (PRWEB) November 14, 2014
The holidays are right around the corner and Missouri retailers have everything needed to amaze friends and family this year.
From boutiques and antiques, to outlet malls and shopping events, Missouri offers great options for shoppers. Find something for everyone on the list and pick up a little reward for the shopper too.
Of course, it's impossible to list all of the one-of-a-kind finds and shopping destinations available in Missouri, so be sure to check out details on the shopping malls and antique shops, along with the specialty retailers listed at VisitMO.com for more information.
Get in on these outlets
The Osage Beach Premium Outlets at Lake of the Ozarks is home to more than 110 designer and name-brand outlet stores. With clothing, shoe, luggage, house wares and specialty retailers, Osage Beach Premium Outlets is a shopper's delight. From Nov. 14-16, the outlets host the 1st Annual Deer Widows Weekend, featuring bargain hunting at its best.
If you're shopping in the St. Louis area, peruse 90 outlet stores at St. Louis Premium Outlets in Chesterfield. This mall boasts shops from Nike to Michael Kors, and a variety of great options in between. To refuel, there are five restaurants on-site, along with a Starbucks in case you need an extra jolt of caffeine.
Tanger Outlets in Branson has added more stores to its lineup, with Helzberg Diamonds, Sunglass Hut, and White House Black Market among the stores that have recently opened. Those shops plus Tanger's already established lineup adds up to a day (or five) of great shopping ahead!
Visit shopping districts/boutiques
In Kansas City, the Country Club Plaza caters to every shopping personality. More than 150 shops and dozens of restaurants occupy the storefronts in this Spanish-architecture inspired district. Pick up a new purse at The Coach Store or Kate Spade New York. Find a treasure for your home at Restoration Hardware. After all of that shopping, deluxe rooms and suites await at Hotel Sorella.
Across the state, explore the shops of downtown Hannibal, and search for unique gifts this holiday season. Along the streets of Mark Twain's hometown, shop at retailers such as Ayers Pottery and Ava Goldworks, whose hand-crafted wares are sure to bring a smile to lucky gift-getters.
Come to Columbia to discover the The District, a live/work/play neighborhood that encompasses 50 square blocks and more than 600 businesses. The District's annual Living Windows Festival is 6 p.m. to 8 p.m. on Dec. 5. Living Windows features live singing, holiday treats and fun for all ages.
Go treasure hunting at antique shops
Treasure Aisles Antique Mall in Maplewood has a unique find for everyone. With 128 booths, they have an incredible variety of treasures from classic clocks to Coca-Cola memorabilia. Their 13,000-square-foot warehouse is filled to the brim with potential gifts for the people on your list.
Mikes Unique Collectable and Antique Flea Market in Springfield offers more than 225 booths and showcases, including Richard Nixon memorabilia, as well as a large selection of used furniture. Oh, and they are pet friendly, so Fido can come shopping too.
Enjoy a unique setting and a fun shopping experience at Downtown Antique Mall in West Plains. Located on the Historic Courthouse Square – which is almost round because streets enter the square at mid-blocks, not corners – the mall offers 22,000-square-foot of space and is home to more than 80 antique dealers.
Family fun and special events
The Christmas Extravaganza in Cape Girardeau is one of the largest indoor arts and crafts shows in the Midwest. This event takes place on Nov. 22 from 10 a.m. to 5 p.m. and Nov. 23 from 10 a.m. to 4 p.m. at the Show Me Center and the Osage Centre and is the perfect place to shop for exceptional homemade items for those special people in your life.
Silver Dollar City in Branson goes all-out for the holidays with more than 5 million dazzling lights and 1,000 decorated Christmas trees. Shop in more than two dozen unique shops – including Jingle Bell Junction – and find a variety of decorative items to add excitement and sparkle around the house this season.
The Christmas Traditions Festival in St. Charles is a month-long celebration where past and present meet. Let the little ones get their picture taken with Santa while shopping around the 70 distinctive stores available in downtown St. Charles. Leave with a gourmet cup of coffee invigorated with the holiday spirit.
From designer stores to unique boutiques, the Show-Me State has the perfect gift for the holidays. Learn more at VisitMO.com.
About the Missouri Division of Tourism
The Missouri Division of Tourism (MDT) is the official tourism office for the state of Missouri dedicated to marketing Missouri as a premier travel destination. Established in 1967, the Missouri Division of Tourism has worked hard to develop the tourism industry in Missouri to what it is today, a $14 billion industry supporting more than 285,000 jobs. For more information on Missouri tourism, go to http://www.VisitMO.com.