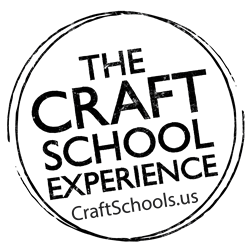 Places like ours, which feature an intensive studio-based retreat environment, allow makers of all levels to make tremendous strides in their work. - Stuart Kestenbaum, Director, Haystack Mountain School of Crafts
Chicago, IL (PRWEB) November 13, 2014
Five of the leading craft schools in the US, including: Arrowmont School of Arts & Crafts, Haystack Mountain School of Crafts, Penland School of Crafts, Peters Valley School of Craft, and Pilchuck Glass School joined together to launch a national initiative at SOFA CHICAGO celebrating the importance of the craft school experience.
The Sculptural Object and Functional Art expo (SOFA Chicago) draws thousands of visitors every year to see the latest in new artwork and to rub elbows with artists and the galleries who represent them. This year, "The Craft School Experience" highlighted seven artists from across the U.S. who studied and teach at two or more of the participating immersion-style craft schools. Presented artists include: Christa Assad, Raissa Bump, David Ellsworth, Arthur Gonzalez, Dante Marioni and John McQueen
This Special Exhibit is designed to travel and officially kicks off a two-year national initiative to promote the common experience and offerings from the five schools involved. The initiative also launched a new website to help people find out more about the craft school experience and the schools themselves: http://www.CraftSchools.us
While maintaining the individuality and distinction of each organization, this dynamic collective is exploring the values, communities and opportunities that join them as a movement. Internationally-renowned instructors, intensive and focused studios, the time for exploration of other art forms, diverse student bodies and communities, and award-winning campuses with acclaimed exhibition spaces are just a few of their similarities. Through their combined efforts they are working to promote and encourage education and excellence in craft by emphasizing their unique opportunities for students to be fully focused and present in a creative manner. Most importantly, though, there is an affirmation for this particular type of educational experience; which for many is thought provoking, inspiring and sometimes life-changing.
"Places like ours, which feature an intensive studio-based retreat environment, allow makers of all levels to make tremendous strides in their work," said Stuart Kestenbaum, Director of Haystack Mountain School of Crafts. "There are many creative people who don't know about our institutions but who would benefit greatly by participating in our programs. We thought SOFA would be an ideal place to launch this new campaign to highlight and promote the craft school experience."
The interactive traveling exhibit strives to capture the essence of the craft school experience by featuring the artworks of master teachers, resident artists, and students who have studied or taught at two or more of the participating schools. Surrounded by personal narratives, quotes, videos, and audio accounts, these works demonstrate the conceptual and artistic progress possible in this transformative style of education. From a variety of voices and first-hand perspectives, this unique exhibit highlights the connection between creativity and meaningful craft school experiences.
"I am pleased and honored to be represented in this exhibition. I first attended Haystack Mountain School of Crafts as a student in 1977 and Penland School of Crafts in 1976. It was a real eye opening experience for me, one that really helped to cement the idea that community within the craft field is vital to anyone's growth. I always come away from that experience with a sense of awe in terms of how students and faculty can learn from each other in such a short period. As a professor, I am adamant that my students have the same experience and send students every year to one of the summer programs."
Wendy Maruyama, exhibiting artist and Professor. Woodworking and Furniture Design Program. San Diego State University. San Diego, CA.
Curated by Bill May, Director, Arrowmont School of Arts & Crafts, Gatlinburg, TN; Stuart Kestenbaum, Director, Haystack Mountain School of Crafts, Deer Isle, ME; Jean McLaughlin, Director, Penland School of Crafts, Penland, NC; Kristin Muller, Director, Peters Valley School of Craft, Layton, NJ; Jim Baker, Director, Pilchuck Glass School, Seattle, WA. in collaboration with Ennis Carter, Social Impact Studios, Philadelphia, PA.
For more information contact:
Ennis Carter, Social Impact Studios
ennis(at)socialimpactstudios(dot)com
267-257-6700
Or visit: http://www.CraftSchools.us