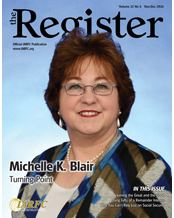 My perfect goal for 2015 would be to surpass my growth from 2014 and achieve the nest level on my way up the ladder... Michelle Blair
Milford, OH (PRWEB) November 13, 2014
Michelle is a former small business owner/operator. For more than 30 years, she worked with her husband in a family business – together 24/7. "Our two daughters grew up knowing that we were sort of attached at the hip," reflects Blair. "We managed it all, somehow".
In 2011, she started at DCPG/IFE and ultimately was promoted to Vice President of Office Operations. It was during that time that she completed the Financial Planning Process curriculum written by the IARFC, giving her insight and knowledge into the world of professional Financial Services. She was able to build on her previous business experience and expand both professionally and personally. Attending the IARFC CE @ SEA cruises, sitting in on webinars and seminars keeps her viewpoint fresh and her learning continual.
For Michelle, the highlight of 2014 was being elected to the IARFC Board of Directors. The members are professionals who participate in the betterment of the entire Financial Services industry while still maintaining their own careers. "Attaining a position as honorable and respectful as being elected to the Board proves that building a relationship with an organization and developing the trust of the other members is something to be proud of," says Blair. "It is truly an honor to be part of the organization."
One of her first Board contributions was to participate as a judge at the IARFC sponsored National Financial Plan Competition; both the Semi-Finals in Ohio and the Finals in Las Vegas. In her opinion however the most significant accomplishment of the IARFC Board is the continued effort to develop the MRFC designation – a third party accredited status to move the Association forward.
For 2015, Michelle looks forward to bringing more continuing education to the financial professionals in the community through IFE by developing "virtual schools" and onsite seminars. In addition, working with Design Capital, she is focusing on bringing a new generation aboard – younger people with new and fresh ideas. She feels merging the wisdom of experience with the exuberance of youth is a winning combination. For the IARFC, Michelle continues to be part of the accreditation process and is excited assist with this enormous task.
"Having Michelle part of the IARFC Board is a winning situation for us," states CEO and Chairman Ed Morrow. "Her enthusiasm and contributions enriches the Association and gives the Board a fresh perspective of business management."
For the entire article on Michelle Blair, go to http://www.iarfc.org and download a copy of this month's Register.