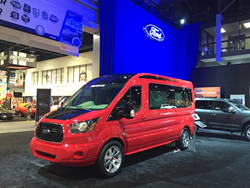 This is an important partnership for Webasto to really understand the needs of upfitters in terms of vehicle integration practices, installation costs and balance of product features that are desired. – Dr. Rolf Haag
Fenton, MI. (PRWEB) November 17, 2014
Webasto Thermo & Comfort North America, a global tier-one automotive and aftermarket equipment manufacturer, known for their sunroofs, heating and cooling systems, made waves at the SEMA Show last week with their new HVAC system.
Leisure and Luxury
Waldoch, a custom van manufacturer, wanted to integrate a superior heating and cooling system into their 2015 Ford Transit SEMA vehicle. Webasto's Ibiza system offered the perfect solution. The Ibiza is a vertical air conditioning unit with heating option with over 31,000 Btu/h cooling capacity, and over 41,000 Btu/h of heating performance. Because of the Ibiza's flexibility and ease of installation, it integrated perfectly into the Transit's custom interior.
Webasto and Waldoch worked together to customize the HVAC system. The vision for a more robust, higher quality climate control system than traditionally available for aftermarket medium duty vans was easily executed with the Ibiza system as the base for this installation. "This is an important partnership for Webasto to really understand the needs of upfitters in terms of vehicle integration practices, installation costs and balance of product features that are desired," said Webasto Thermo & Comfort President and CEO, Dr. Rolf Haag. "The system's low maintenance, high reliability and optimum climate control performance is achieved at a competitive price for the end user," Haag continued.
Partnering with Industry Leaders
Waldoch manufactures vans and trucks worthy of quality awards from leading manufacturers such as Ford, GM and RAM. They focus on building luxury custom vehicles to fit the needs, personality and lifestyle of each individual customer. For the 2015 Ford Transit that made its debut at the 2014 SEMA Show and ultimately won a Ford Project Excellence Award, Waldoch partnered with top aftermarket companies to develop a show-stopping luxury van.
The customized long-wheelbase, medium-roof Ford Transit by Waldoch, dubbed the "Designed Travel Transit," features:
• Forgiato 20" 3-piece wheels
• Pirelli 265/50/R20 wheels
• Waldoch Crafts exterior paint
• Go Power roof mounted solar panel
• 3dCarbon/Air Design front bumper light bezels
• Chairmen Seating Inc., (6) bucket seats, (1) rear sofa
• Fabric Services Inc. leather interior coverings
• Solid real hickory wood flooring
Where to Next
The "Design Travel Transit" featuring the Webasto Ibiza HVAC system departed the 2014 SEMA Show in Las Vegas, Nevada to head to San Francisco, California for the NADA Convention & Expo on January 22-25, 2015. It will then make stops around the country, on its nationwide tour throughout 2015.
***
About Webasto:
Webasto Thermo & Comfort North America is a subsidiary of Webasto Thermo & Comfort SE. Webasto Group based in Stockdorf near Munich has been a family-owned business ever since the company was founded in 1901. The group operates internationally at over 50 locations (over 30 of these production sites) in the divisions roof and thermo systems. Webasto is one of the top 100 automotive suppliers worldwide. The company´s core competencies encompass the development, production and sales of complete roof and convertible systems as well as heating, cooling and ventilation systems for passenger cars, commercial and special vehicles, recreational vehicles and boats. For more information please visit http://www.webasto.com.
Corporate Contacts
Webasto Thermo & Comfort North America, Inc.
Amanda Kopczyk
Ph. 810-593-6070
E-Mail: amanda.kopczyk(AT)webasto.com