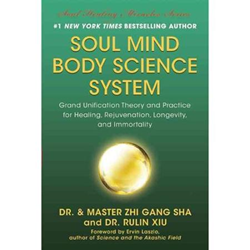 "I said to my friend that I just received a really potent healing tool from Master Sha." says Terry Matthews of Pheonix, AZ.
Phoenix, AZ (PRWEB) November 13, 2014
New personal video testimony shows Terry Matthew's story about how he helped a friend who was unemployed for over a year clear her employment blockages with high level healing energies infused in the Ling Guang (Soul Light) Calligraphy created by Dr. and Master Zhi Gang Sha. In this video testimonial, Terry tells how his friend contacted him about her unemployment. Terry used the Ling Guang (Soul Light) Calligraphy created by Master Sha to meditate with his friend and asked for employment blessings. "I said to my friend that I just received a really potent healing tool from Master Sha. Let's see if we can move some blockages preventing you from getting employment," Terry says. "So I went to see her with the calligraphy, we put it up against the wall and we chanted the name of calligraphy, which is Shining Soul Light for half an hour. At the end of the healing blessing my friend and I were in an incredibly deep relaxed space. She left and 3 days later she called to say that interviews were flooding in." Terry adds that about 2 weeks later she had been offered the job she really wanted. "This is someone who had been looking for a job for a year. A half an hour of receiving the healing blessing with this calligraphy totally changed her path. Whatever blockages were there had gone. It's a testimony to the power of these calligraphies." To watch Terry Matthew's personal video testimonial, go to: https://www.youtube.com/watch?v=fzzz4PI23BQ.
This November, thousands will flock to Sedona and webcasts to meet and experience Dr. and Master Zhi Gang Sha, founder of Soul Mind Body Medicine ™ and the New York Times bestselling author of Soul Healing Miracles for his annual sacred Tao I-V Retreats that take place at the majestic Sedona Mago Retreat, 3500 Bill Gray Road, Sedona, AZ 86336, The Tao I-V Retreats are where individuals learn the secrets to healing, longevity, and rejuvenation for a better life with the world renowned spiritual phenomenon, Dr. and Master Zhi Gang Sha. For more information and to see Dr. and Master Sha live in person or via webcast, go to: http://www.drsha.com/TaoRetreat/
Dr. and Master Sha, creator of Soul Mind Body Medicine™, will guide a participants through high-level spiritual practices that heal and purify the soul, heart, mind, and body. The Tao I – V Retreats are ideal for those with chronic or life-threatening conditions. Nestled in the intersection of soul-enriching wilderness of red rock Sedona, the Tao I-V Retreats are perfect for those who seek answers to the unbalance and turmoil in the present world, and who want more meaningful connections to their environment, to nourish their soul and find a more profound connection to their creator. Registered Tao Retreat participants are invited to Sedona's geological wonderland where USA Weekend notes Sedona as "The Most Beautiful Place in America."
Dr. and Master Zhi Gang Sha is the world-renowned miracle soul healer. He has created thousands of soul healing miracles worldwide in the last ten years (http://www.youtube.com/zhigangsha). He is the founder of Soul Mind Body Medicine™. He was trained as a conventional medical doctor in China and a doctor of traditional Chinese medicine in China and Canada. The founder of the Institute of Soul Healing and Enlightenment™ and the Love Peace Harmony Movement™, Dr. and Master Sha is a grandmaster of many ancient disciplines, including tai chi, qigong, feng shui, and the I Ching. Master Sha is also an expert in the most advanced cellular healing science now occurring in China. In the West, he is involved in breakthrough research on the effects of spirit on the human system. Dr. Sha was named Qigong Master of the Year at the Fifth World Congress on Qigong. In 2006, he was honored with the prestigious Martin Luther King, Jr. Commemorative Commission Award for his humanitarian efforts.
An international bestselling author, Master Sha is author of ten books in the Soul Power Series published by Simon & Schuster (Atria Imprint), with each book reaching the New York Times bestselling list and four of them reaching #1. Master Sha's Soul Healing Miracles book published in 2013 by BenBella was instant bestseller on USA Today and Wall Street Journal. His newest book, Soul Mind Body Science System will be launched in Arizona during the Tao Retreats in November, 2014.
The Soul Healing Miracles™ Chanting Channel fosters a soul healing community to learn and use chanting and soul songs for personal, spiritual, mental and soul development, 24/7. For more information, visit http://www.DrSha.com.