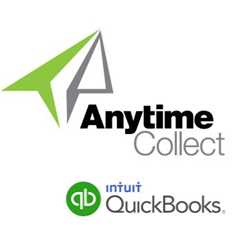 Anytime Collect QuickBooks Edition is based on the same software used in much larger businesses but it's simplified and streamlined for smaller companies.
Chardon, Ohio (PRWEB) November 14, 2014
Today e2b teknologies, publishers of Anytime Collect, announced a special version of the popular accounts receivable management software exclusively for Intuit QuickBooks customers. The new QuickBooks Edition is available from Intuit's Apps.com solution marketplace where customers can sign-up for a complimentary trial of the software.
"There are more than four million QuickBooks users and many of these businesses struggle to effectively manage their cash flow effectively," said e2b teknologies President Lynne Henslee. "The QuickBooks Edition of Anytime Collect helps them get paid faster by organizing the information so they know who to call, when, and why – with all of the information they need to be more effective. In fact, most companies can get paid about nine days faster with much less effort."
QuickBooks customers can sign-up for a free trial of the software at apps.com. The sign-up process walks the customer through the setup process including connection to their QuickBooks database and a wizard that allows them to personalize system settings. Larger businesses may consider upgrading to the Anytime Collect Standard or Enterprise Editions for more users and more sophisticated automation capabilities. A comparison of product edition features is available on the Anytime Collect website.
"There are several accounts receivable apps available for smaller businesses on QuickBooks today but most offer only basic capabilities. Anytime Collect QuickBooks Edition is based on the same software used in much larger businesses but it's simplified and streamlined for smaller companies," Henslee said. "We are excited to offer Anytime Collect for smaller businesses so they can get paid faster and easier than they ever imagined while improving cash flow and access to working capital."
Major features in the new QuickBooks Edition include statistical cash forecasts, automated email communications, prioritized action lists, and document management for storing documents and files related to customer accounts such as business credit applications, credit reports, and contracts or for centralizing supporting documents for invoices such as timesheets, shipping documents, and more.
Designed exclusively for QuickBooks, the accounts receivable software includes embedded tutorial videos so new users can learn how to utilize the system effectively in just a few minutes. It also features an online user community and knowledgebase, live chat with customer support agents, and an integrated help desk ticketing system as well as links to articles and best practices in accounts receivable, credit, and collections management.
Anytime Collect QuickBooks Edition is available for a low monthly subscription price. Click here to start your trial today.
About Anytime Collect
Anytime Collect is a leading cloud-based accounts receivables management software system integrated to leading ERP accounting systems including Intuit QuickBooks, Epicor, Sage ERP, Microsoft Dynamics ERP, and other business applications.