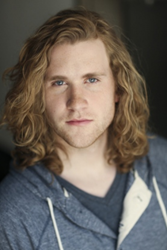 AMTC was a career changer for me.
Atlanta, Ga. (PRWEB) November 14, 2014
Daniel Nelson, 21, from Fairfax, Va. is a rising performer who was recently launched into entertainment's spotlight. Since attending AMTC's SHINE Summer 2014 Conference, Daniel has walked for two major designers in New York Fashion Week, starred in national commercials for EA FIFA 15 and Kaboom Xero Sticks, and landed a lead role in the television series "Monumental Mysteries."
Daniel recently signed with Wilhelmina Philadelphia and has several upcoming projects. His EA FIFA 15 commercial aired on Sept. 25, 2014. The Kaboom Xero Sticks commercial is in post-production, and "Monumental Mysteries" will air next season.
Throughout middle and high school, Daniel played basketball, baseball and football. He was planning to play collegiate basketball when he injured his wrist and was out for two months. During this time, he realized his passion for the entertainment industry. "When I was sick, I was searching for something else. I just felt a constant nagging on my heart to follow my previous interest in photography and acting," he says.
Actors, Models and Talent for Christ is a nonprofit ministry dedicated to making good bolder in film, fashion, music and theatre. The organization is currently holding auditions around the country for the international SHINE Conference. "AMTC was a career changer for me," he says. "Through AMTC, I have a huge support base and a great teaching base."
AMTC's Chief Serving Officer Carey Lewis says, "Since success in the entertainment industry is about 'what you know' and 'who you know,' SHINE teaches performers what they need to know and puts them in front of who they need to see." Daniel was one of nearly 800 performers chosen to attend SHINE, from auditions held all over the world.
Daniel holds firm to his Christian faith and continues to represent AMTC's purpose of making good bolder. He speaks about remaining grounded in Christ, even as a performer. "Although you are a performer and you are labeled as performer, you should always label yourself as Christian before that. Christ should always come first."
Be sure to check out Daniel's AMTC Story from the Mission Field, and follow him on Instagram, @danielnelson11. To learn more about AMTC and the SHINE Conference like Daniel attended, please visit http://www.amtcworld.org.