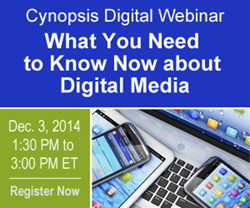 New York, NY (PRWEB) November 19, 2014
Learn the true distinctions between digital and linear media, the current terms and trends you need to know, and how they will be shifting in the future by joining Cynopsis Digital on Wednesday, December 3 for the training webinar, "What You Need to Know Now about Digital Media."
Cynopsis Digital Associate Editor Jessica Reese, will host the December 3 webinar along with the experts Sara Moscowitz, SVP Brand & Strategic Marketing for Syfy; Marco Parente, Sr. Director for Digital Ratings Product Leadership for Nielsen; Melissa Romig, VP Group Director for Havas Media; and Jonathan Tavss, Senior Advisor, Head of Original Content for OwnZones.
In addition to a current illustration of the digital TV ecosystem - how it works, who owns what, how deals are made – actionable takeaways will include:
Content:

The benefits and pitfalls of using social media, blogging, ebooks, apps, and more
The qualities of successful slideshows and videos
The different kinds of content that spurs on your audience to buy, learn more, or love your brand
The relevant distinctions between content curation and content marketing
Selling:

Understanding the digital value chain: formats, platforms, tools, and technologies
The latest in Digital Ad Units: leaderboards, skyscrapers, micro bars, pop ups, and more
Interpreting and analyzing data to convey results to client and supervisors
Creating branded content with a strategy, point of view, and personality so users want to share and connect
This highly interactive webinar will allow for real time Q&A's to ensure specific questions are answered. Register today for the Cynopsis Digital webinar "What You Need to Know Now about Digital Media."
All Webinar attendees will receive full access to speaker presentations for 1 year, along with a certificate of completion. Webinar tuition is based on location, not number of participants, so each registration site can have multiple participants for one low price. Questions? Contact Trish Pihonak at trish(at)cynopsis(dot)com.
About Cynopsis Media:
Cynopsis Media is a division of Access Intelligence LLC. The Cynopsis Media family of products includes Cynopsis, Cynopsis: Digital and Cynopsis: Sports daily e-publications, weekly Cynopsis: Kids and Cynopsis: Classified Advantage e-publications, Special eReports, Event/Summits and a strong database of Classifieds and more. Visit cynopsis.com.