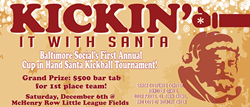 Baltimore, MD (PRWEB) November 15, 2014
Baltimore Social is excited to hosting Baltimore City's first ever Santa Kickball tournament. Utilizing the popularity of New York City's Santa-Con theme, Baltimore Social is encouraging Baltimore residents to take part in this day of fun and winter holiday silliness.
On Saturday December 6th at the South Baltimore Little League fields, Baltimore Social will host a kickball tournament utilizing its "Drink-in-Hand" kickball rules for a one day World Cup style kickball tournament.
All registration is online at http://www.BaltimoreSocial.com. Teams of 12 people can register for the team rate of $300 or individuals and groups smaller than 12 can register for $30 a person. All registration for the tournament closes Monday December 1st at Midnight.
Everyone who participates is encouraged to dress up in the holiday spirit with ugly sweaters, Santa costumes, reindeer horns and anything else that screams Santa.
Registration includes a guaranteed two games of kickball, tournament swag and there will be prizes for the top kickball teams and the most spirited teams. Top finisher prizes include a $500 bar tab to the winning kickball team.
Baltimore Social will be providing a festive atmosphere with holiday music, Christmas themed cups for everyone to use while playing, and other fun outdoor games to entertain participants while not playing kickball.
In addition both Mother's Grill in Federal Hill and Miller Lite are sponsoring a post-kickball afterparty with free Miller Lite from 1 to 5 p.m.at Mother's Grill for all tournament participants. The afterparty is open to the public and is just $10 for free beer for non Baltimore Social participants.
For more information please contact giovanni(at)Socialleagues(dot)com or call 410.952.7436.