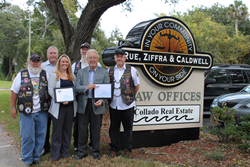 Jessica Eckelbarger, John Rue, and Attorney David Sweat with their Presidential Awards given by Rolling Thunder Chapter 8.
Port Orange, FL (PRWEB) December 23, 2014
Rue, Ziffra & Caldwell, a well-known, personal-injury law firm based in Port Orange, has received two Presidential Volunteer Service Awards for its continued efforts in helping local veterans' groups.
The honors – one of which is a platinum award and the other gold – are the second-highest civilian service awards signed by the President of the United States for volunteerism, according to John Trask, president of Rolling Thunder Chapter 8, the veterans' organization that nominated both the firm of Rue, Ziffra & Caldwell and its Marketing Director Jessica Eckelbarger.
Trask said his group uses criteria such as what an individual or business does in the way of community service, how many hours they donate and the outcome for the intended organization when making its selections. He said the nominations then are examined by an agency in Washington to determine the level of the award: silver, gold and platinum, or lifetime.
Eckelbarger, who received the platinum award, is always eager and enthusiastic to help his group, Trask said. "She is just amazing. She is so energetic and always helps us out with print, radio and television ads for our motorcycle rides, galas, and other fundraising events to support our local veterans and their families."
Trask added that every cost absorbed by Rue, Ziffra & Caldwell means more money goes directly to the veterans through scholarships, flag donations, food drives and education-awareness programs.
The people at Rue, Ziffra & Caldwell have been so generous to us these past three years that we really can't believe it," Trask said. "And the partners like John Rue are so supportive of Jessica and what she does. They really do walk the talk."