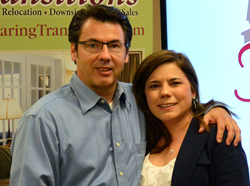 New Orleans, LA (PRWEB) November 13, 2014
Long-time New Orleans residents Chris Armond and Mylinda Gettys are looking forward to bringing a unique service to their community with their new locally-owned and operated Caring Transitions franchise, Caring Transitions of Southeastern Louisiana.
Caring Transitions is America's largest resource specializing in managing senior relocations, downsizing and estate liquidations. In addition to the organizing, packing and move oversight, Caring Transitions can handle on-site and online estate sales, liquidations, and preparing homes for market. This local franchise serves New Orleans and the surrounding area.
Whether your situation is planned or unexpected, Caring Transitions offers a streamlined support system to help facilitate a less stressful transition or clear out a home.
"There is just such a tremendous need in our community. Moving is never pleasant, but for the elderly, it can be especially stressful. I also know from seeing what some of my friends went through when they lost a parent, clearing out a home can be overwhelming," Armond said. "Caring Transitions was founded to make both of these processes easier and we're looking forward to providing those services."
"We saw this as a wonderful opportunity to help people, which is absolutely fulfilling," said Gettys, who has spent the last six years helping New Orleans recover from hurricane Katrina. "I wanted to continue working in a career that produces tangible results while helping people, so Caring Transitions is a perfect fit."
The company's services are perfect for seniors moving in with family or into a safer living situation as well as for families clearing out the home of a loved one who has passed. Caring Transitions can work with estate planners, movers and real estate agents to designing a functional and comfortable floor plan and serve as family advocates.
"Our company coordinates the move, sorts belongings, packs and unpacks, helps people get settled in their new homes and even helps with floor planning. We can also help coordinate repairs and stage a home for resale. Caring Transitions can actually save clients' money by liquidating possessions they no longer need and by facilitating a quick turnaround in preparing the current home for sale," Gettys said.
Armond and Gettys are Certified Relocation and Transition Specialists, a designation bestowed by an independent organization that evaluates providers of senior relocation services. Caring Transitions of Southeast Louisiana is bonded and insured.
"We offer free in-home consultations so we can better understand the needs of our potential clients and how we can help. Every clients' needs are unique, so we tailor our services to fit those needs. If it's a service we do not provide, we will find a good, trustworthy, dependable resource for those clients," Armond said.
Founded in 2006, Caring Transitions is a trusted and highly respected national company leading the way in senior relocation, household liquidations and estate sale management in more than 150 locations across the United States. Caring Transitions is part of the International Franchise Association, the Small Business Association's Franchise Registry, VetFran and Minority Fran.
To learn more about how Caring Transitions of SE Louisiana can serve you and your family, call (985) 231-0777, email: carmond(at)caringtransitions(dot)net or visit http://www.CaringtransitionsNewOrleans.com.
About Caring Transitions
Caring Transitions, founded in 2006, is the first national franchising concept specializing in senior relocation and transition services. With 150 locations throughout the United States all owned and operated by Certified Relocation and Transition Specialists, Caring Transitions provides clients with supportive moves, auctions, rightsizing and transitions. This includes expert advice plus a well-executed transition plan beginning with the initial sorting of personal belongings through packing, shipping and selling of items to the final clearing and cleaning of the property. For more information, visit http://www.caringtransitions.com or visit us on Facebook or Twitter.
Caring Transitions is part of Strategic Franchising Systems. It is a member of the International Franchise Association, the Small Business Association's Franchise Registry, VetFran and Minority Fran.