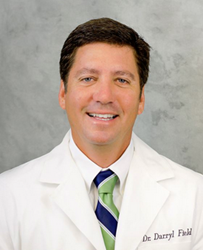 Jacksonville, FL (PRWEB) November 13, 2014
Recent studies have revealed that people with diabetes are more likely to suffer from gum disease than those without diabetes. In honor of Diabetes Awareness Month this November, Dr. Darryl A. Field, a leading periodontist in Jacksonville, FL, wants to educate his patients about the dangers of untreated periodontal disease, as research has indicated that a direct correlation between this oral infection and diabetes does exist.
People with diabetes are generally more susceptible to infections, which is why researchers think that people with diabetes are more likely to have periodontal disease than their diabetes free counterparts. Research has suggested that the relationship between periodontal disease and diabetes goes both ways. Periodontal disease has been shown to make it more difficult for diabetics to control their blood sugar, and periodontal disease has been shown to actually increase blood sugar. This increase in blood sugar caused by periodontal disease that is seen in diabetics can cause serious diabetic complications, especially if the periodontal disease is left untreated.
As seen with other diabetic complications, gum disease has been inherently linked to diabetic control. It has been shown that people develop periodontal disease much more often and more severely if they have poor control over their blood sugar. People with poor diabetic control have also been shown to lose more teeth than those who have control over their diabetes, which is most often a result of bone loss due to periodontal disease. As a periodontist in Jacksonville, FL, Dr. Field is experienced and extremely knowledgeable regarding this relationship between these two conditions and offers periodontal disease treatment for all stages of this oral infection.
Another complication of diabetes that has been shown to increase the risk of periodontal disease is the thickening of blood vessels. Because blood vessels are responsible for delivering oxygen and nutrients to bodily tissues and carrying away waste products, the thickening of these vessels as a result of diabetes ultimately weakens the gum and bone tissue and makes the individual more prone to infection.
For more information about Diabetes Awareness Month, gum disease, and the services offered by Dr. Field, a leading periodontist in Jacksonville, FL, visit his website at http://www.jaxdentalhealth.com and call 904-201-8293.
About the Doctor
Darryl A. Field, DDS, PA, is a periodontist offering personalized dental care to patients in Jacksonville, FL since 1997. Dr. Field received his Doctor of Dental Degree and his certificate in Periodontics from LSU School of Dentistry. He is part of one percent of dental professionals providing the first FDA cleared laser procedure for gum disease and periodontal treatment. To learn more about Dr. Field and his dental services, visit his website at http://www.jaxdentalhealth.com and call 904-201-8293.