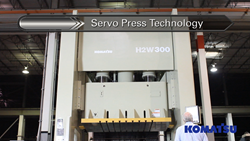 We also realized that customers expected a very high level of service.
Chicago, IL (PRWEB) November 14, 2014
Chicagoland based media and production company Absolute Vision Media & Productions has recently announced the successful completion of a livestream project: a new product demonstration for Komatsu Ltd., a global construction and manufacturing company. A staple of the communications strategies of any worldwide entity, livestreaming enables one party to view, in real time, events transpiring hundreds or thousands of miles away – this technology is now available for rental and short-term use by contacting Absolute Vision through their website.
Livestreaming itself is not necessarily a new technology. It has been used largely by large-scale media companies to make content available to internet users, particularly on news websites. In the past, the technology has required vast resources, primarily because video is a very dense medium in terms of data. However, thanks to ingenuity in terms of video hardware and codecs, Absolute Vision Media & Productions is now able to offer live streaming for corporate events across a broad array of environments, including live video for business meetings, events, and product demonstrations.
"We realized there was a huge market for this type of service," said Mark R. Smith, founder of Absolute Vision Media & Productions. "We also realized that customers expected a very high level of service." Investing in the ability to livestream in full high definition capacity, Absolute Vision set out to provide high end livestreaming to those who were eager to utilize the technology in a broad variety of settings.
The Komatsu project is an excellent example of how many corporations are eager to use livestreaming to cut costs and open new areas of enterprise. The second annual event with the industrial giant, this year's livestream required two Absolute Vision team members to travel to Ohio, to personally coordinate the technological details with Komatsu senior staff. The end result—a live event video demonstration for the manufacturing industry—was viewed directly and successfully by interested clients in Nashville, TN.
As a technology that is becoming ever more ubiquitous, livestreaming is being used in innovative ways by businesses and media companies alike. Whether it's using livestreaming to arrange demonstrations of products or to make shareholders feel invested and included in the operations of a board meeting or for corporate training, there's little doubt that the technology will continue to be used in a way that is vital to entities from local Chicago corporations to companies with global aspirations. By supplying not only the technology, but also the know-how required to make it shine, Absolute Vision Media & Productions--known already for trade show video production and live video production for corporate manufacturing events--is well positioned to meet the needs of global companies in the present and future. Visit the Absolute Vision online gallery for additional samples of top-tier video, animation, and media content.
Absolute Vision Productions is a Chicago-based media and production company, and part of the Absolute Vision Media Inc. creative group. Whether for agency-style media, professional video production, local production crew, live stream or general marketing and advertising, Absolute offers national-level experience with local connections and know-how for corporate, educational, commercial, and creative purposes. To learn more, visit http://www.AbsoluteVisionProductions.com. or Call at 630.422.7311