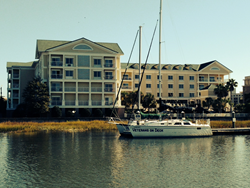 Charleston, SC (PRWEB) November 13, 2014
Forty-eight weeks out of the year, the Ashley Marina, located at 33 Lockwood Drive, is home to the Veterans on Deck fleet. However, when the marina has an overwhelming amount of boats due to transient traffic, VonD gives up their spots to ensure that owners don't lose any potential income. This coordination is only possible when other local businesses are willing to help out by providing alternate docking.
The Marriott Courtyard Charleston Waterfront kindly allowed Veterans on Deck to keep its boats on their privately owned dock for several weeks this fall while transient traffic remained heavy. Veterans who use this fleet offer their sincere thanks to the Ashley Marina for regularly docking their boats, and to the Marriott Courtyard for their flexibility when Veterans on Deck is in a pinch.
Veterans on Deck (VoD) is a maritime initiative for Veterans with Post-traumatic Stress Disorder (PTSD), past experience of Military Sexual Trauma, or Serious Mental Illness. VoD uses sailing to foster experiences of empowerment, mastery, and successful social interaction, and also provides a means for our Veterans to achieve re-connection, re-socialization, personal growth, and how to once again have fun in social settings. The organization's objective is unique in that it strives to offer programs that are not just therapeutic, but also address the deeper vocational and social re calibration needs of returning Veterans.