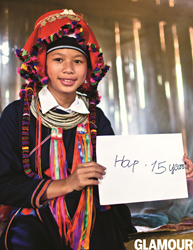 Toronto, ON, Canada (PRWEB) November 13, 2014
A young teenager who lives in the mountainous region of northern Vietnam has been honoured as part of Glamour magazine's Women of the Year Awards for her bravery and commitment to getting an education.
Fifteen-year-old Hap from Vietnam, a youth beneficiary from a Plan Canada community sponsorship program fully supported by Canadians, is being recognized as one of Glamour's "Bravest Girls in the World," honorees of the 2014 Women of the Year Fund.
Nine other inspiring young women from around the world were also celebrated at the official awards night on Monday, November 10 in New York City. Plan International Girls' Ambassador Freida Pinto presented the young women with the awards for their courage and fortitude in confronting obstacles in pursuit of their education.
According to Glamour, it is honouring girls everywhere as Women of the Year who are defying the odds to go to school, as part of The Girl Project – Glamour's new initiative that will raise funds to break down the barriers to secondary education for young women all over the world.
Journey to change
Hap, who was featured in Plan's 2012 video Three girls, one day, continues to overcome the daily challenge of going to school – including walking along a steep mountainous road, often in adverse weather conditions.
"The hardest part of getting to school is being alone in the misty morning when the sky is still dark… But I love being able to learn," she says. Hap hopes to become a music teacher one day.
Canadians' support and generosity of Plan's programs in Vietnam have given girls like Hap and their families opportunities to break the cycle of poverty, access resources to further their development, and create lasting improvements in their lives.
In addition to Vietnam, donors have also funded Plan's community sponsorship programs in Mali, Bangladesh, Ghana, and Ethiopia.
About Plan and the Because I am a Girl initiative
Founded in 1937, Plan is one of the world's oldest and largest international development agencies, working in partnership with millions of people around the world to end global poverty. Not for profit, independent and inclusive of all faiths and cultures, Plan has only one agenda: to improve the lives of children. Because I am a Girl is Plan's global initiative to end gender inequality, promote girls' rights and lift millions of girls – and everyone around them – out of poverty. Visit plancanada.ca and becauseiamagirl.ca for more information.