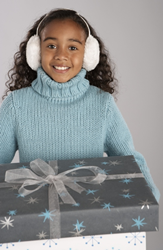 Without this effort, most of the children at Orchard Place would not receive a gift.
Des Moines, IA (PRWEB) November 18, 2014
Orchard Place, mental health experts for Iowa's children, is proud to announce the 2014 Holiday Gift Drive. The need this year is approaching 600 children who have completed 'wish lists.' Without this effort, most of the children at Orchard Place would not receive a gift.
The number of children served by Orchard Place has grown to 10,000, an increase of about 2,000 children since last year. For the 600 children who are the recipients of the Orchard Place Gift Drive, it is a way to put cheer into their holiday season, and help them learn about the traditions of the season.
"The need continues to be great, and we remain fortunate to have so many individual and corporate donors who realize how important it is to support Orchard Place during the holiday season," said Anne Star, Orchard Place Chief Executive Officer. "Again, we are turning to them for help to make the holidays brighter for our kids. The Holiday Gift Drive is an excellent example of how giving can truly make a positive difference in a child's life."
Special needs this year include gas cards for families to use to utilize Orchard Place services and holiday party sponsors for children who live at our residential campus. This is a great opportunity for community groups and business who wish to participate in a pizza party as well as helping to fulfill wish lists.
Supporters may also 'adopt' a child and purchase three gifts from their holiday wish list. The deadline for 'adopting' a child this year is December 5. Gift cards or donations are also great ways to support the Holiday Gift Drive.
"While the kids are limited to three gifts on their wish list, I am surprised to see so many of the children have asked for a particular item for a family member," said Megan Ronnenberg, Director of Volunteers. "The need continues to grow as we serve a record number of children. The joy the holiday gifts bring to our kids is priceless."
How to Help:
To help with this year's Orchard Place Gift Drive, contact Megan Ronnenberg at mronnenberg(at)orchardplace(dot)org or 515-987-9621. Donations may also be made via the Orchard Place Website at: https://www.orchardplace.org/donation. Users may use the General Donation Tab and select "Holiday Giving" at the designation prompt.
About Orchard Place:
Orchard Place is the oldest locally-based charity in Des Moines providing mental health treatment and expertise for Iowa's kids. Our inpatient, outpatient and community program serves nearly 8,000 children from birth to age 22 annually. Four operating divisions work under the Orchard Place umbrella of services: Child Guidance Center, Orchard Place Campus, PACE Juvenile Center and the Integrated Health Program. More information can be found at http://www.orchardplace.org