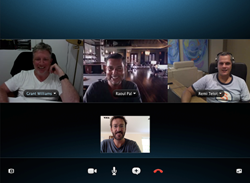 We are giving people this information and content to digest on their own and make their own decisions. Real Vision gives them more access and technology has made it possible."
George Town, Grand Cayman (PRWEB) November 17, 2014
Real Vision Television, a media startup set up in Cayman Enterprise City, has experienced tremendous success since the company launched its financial video service in early September. Real Vision TV is an on-demand, subscriber-based channel that offers a library of exclusive content on economics and investing. On the first day of streaming, subscriber expectations were massively exceeded and continue to grow exponentially, so the company is now expanding facilities in Cayman's special economic zone. The innovative minds behind the startup expected to tap into a hunger among general investors for more information and insights, but they are pleasantly surprised by the huge response.
"We are doing phenomenally well! The feedback is astonishing – people just love it!" says founder Raoul Pal, a former global macro fund manager who has partnered with 3 others to launch Real Vision TV.
Frustrated with traditional financial channels that Pal says don't offer enough value to viewers, the partners decided to do it themselves. He teamed up with English advertising executive Damian Horner; Grant Williams, the author of the newsletter Things That Make You Go Hmmm; and his design colleague Remi Tétot. Their mission is to give general investors direct access to independent financial information.
"We want to open a dialogue with honesty and directness that seems to be missing from traditional financial channels because at the end of the day current financial content is funded by advertisers," says Damian Horner.
"There is currently a narrow vision of finance and economics – the answers lie outside this narrow vision – we are trying to get a broader case across for 'truth finance,'' says Pal. "We are giving people this information and content to digest on their own and make their own decisions. Real Vision gives them more access and technology has made it possible."
With team members based in Spain, Singapore, England, Cayman, and with extensive travel schedules, they brainstormed and developed ideas through group Skype sessions, keeping an eye on viewer trends, social media and technology. They decided on video-on-demand and designed an appealing, high-end video platform based on what they would like to use, with access to a library of quality useful content.
"We've consistently been driven by looking at big picture stuff - honesty and truth," says Damian Horner. "We asked ourselves 'why not put real financial insight out there unfiltered, uncensored, with no corporate sponsors?'"
Using their own contacts in the financial centres of the world to land hard-to-get interviews, Pal and the team are meeting with economists, hedge fund managers, research analysts, traders, newsletter writers, bitcoin specialists and more. Real Vision TV quickly found an audience and subscribers are responding to shows like Master Class with macro investor Mark Hart.
Damian Horner says subscription members will be a part of the discussion and they have the opportunity to contribute ideas and submit content for the channel. "A 17 year old concerned about student loans is working on a show debating the value of a college education. He's done the math and wants to know if it works," he said.
The Real Vision team is now reaching out to finance and economics college students because the service was developed with them in mind. Pal will speak to the student finance societies at Oxford and Cambridge this fall and he is considering offering a student economic prize.
"We are following the movement among student bodies putting pressure to learn more, and we want students to start learning about economics and finance," says Pal. "We are getting involved because these students are our future bankers, investors and advisors."
This focus on millennials and students is promising for young Caymanians who stand to benefit from simply having experts like Pal and company based in Cayman Enterprise City. After a worldwide search for the perfect place to build an island home, Raoul Pal has settled in the Cayman Islands and he plans to be involved with his new community. Real Vision TV, which has connected with new clients in the zone, is now moving into bigger offices and hiring new staff locally. Pal says they will also participate in CEC's summer internship program.
"We are delighted that Real Vision TV's success and expansion, including through hiring locally, has come so quickly." stated Charlie Kirkconnell CEO of Cayman Enterprise City. "This company's principals have taken advantage of the globally competitive special economic zone concessions to launch their start-up media company, in the Islands. In the process they have confirmed their perception of Cayman as an ideal base for their global business, while also making a significant contribution to the expansion of the local economic through their physical presence here. This company's growth proves the model that so many of our clients follow, which is to test the waters by starting small initially and then expanding as and when appropriate" he added.
About Cayman Enterprise City
Cayman Enterprise City is a Special Economic Zone in the Cayman Islands focused on knowledge-based industries, technology companies and specialized services businesses. With a dedicated Government Authority and guaranteed fast-track processes, International companies can quickly and efficiently establish a genuine physical presence in Cayman. Businesses can take advantage of Cayman's jurisdictional benefits which include zero corporate tax, zero income tax and zero capital gains tax, along with a raft of special zone concessions and incentives. These concessions were designed to attract international companies from five specific high-tech sectors; internet and technology, media and new-media ventures, biotechnology, commodities and derivatives, and academia.
FOR MORE INFORMATION:
Call: +1-345-945-3722
E-mail: h(dot)cahill(at)caymanenterprisecity(dot)com
Web: http://www.caymanenterprisecity.com
Facebook: http://www.facebook.com/caymanenterprisecity
Twitter: @CEC_Cayman
LinkedIn: Cayman Enterprise City