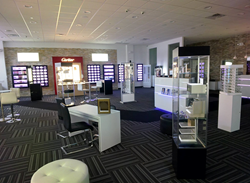 Our fourth location marries healthcare, technology, and fashion, in keeping with our mission to provide world-class eye care and eyewear - right here in the Bronx.
Bronx, NY (PRWEB) November 14, 2014
Imagine the Apple store, infused with elements of a Las Vegas boutique. Does that visual at all resemble your last visit to an eye doctor's office? Unless your most recent vision checkup took place at the brand-new Flagship location of Metro Optics Eyewear, the answer is probably no.
Metro Optics Eyewear, a Bronx-based business serving the community for over 35 years, recently opened its fourth Bronx location in the Throggs Neck Shopping Center. The decision to open this location – Metro's flagship – at this venue was strategic on multiple levels: its location near the Whitestone Bridge is minutes away from Trump Golf Links at Ferry Point, Donald Trump's new public golf course opening in 2015; established neighboring stores include anchor tenant Target; new construction enabled build-out to spec; and ample free parking, highway access, and robust bus service allow for easy transport.
"M4, as we refer to it, marries healthcare, technology, and fashion, for a show-stopping impact," said John Bonizio, Metro Optics General Manager. "Virtually every industry is being disrupted by technology, and the optical industry is no exception. We saw a valuable opportunity to take the lead by creating a dedicated Electronic Eyewear department, in order to ensure the safe and effective use of wearable technology within the context of our extensive optical expertise." Additionally, the store is fully "wired," not only with electronic medical records and the latest digital eye care tools to aid in proper patient diagnosis and measurement, but also with a full audio/visual outfitting to supplement patient communication through educational videos and product information.
In light of multiple recent developments around the borough, many have parsed what "The New Bronx" will entail. Bonizio and Founder Michael Ungaro – both Bronx-born and -bred entrepreneurs – believe that this new store, their fourth in the Bronx, embodies positive growth among the small business community; they are hopeful that the attention this location receives city-wide and in the optical industry will reinforce the value of keeping and growing business here. An Open House and ribbon cutting, which will be co-hosted by the Bronx Chamber of Commerce, will take place on Tuesday, December 9, 2014 at 5:30pm.
About Metro Optics Eyewear
Founded in 1978 by Michael T. Ungaro with a single exam chair in Parkchester, Metro Optics has served the Bronx community with the highest quality comprehensive and emergency eye care and designer eyewear selections for nearly four decades. Metro Optics is a frequent supporter of community and small business initiatives and local nonprofits, and promotes eye health awareness around the Bronx via free vision screening events. Metro Optics staff serve on the Bronx advisory board of VISIONS/Services for the Blind and Visually Impaired as well as the board of the Westchester Square Business Improvement District, and Metro Optics is a longtime, vocal member of the Bronx Chamber of Commerce. Its three other stores are located in Westchester Square, Parkchester, and Hunts Point.