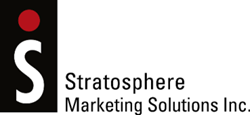 BGA adds value every day to the producers they serve, and we are thrilled to add an additional dimension of value in helping these producers best market themselves in the digital world
Westlake Village, CA (PRWEB) November 14, 2014
Stratosphere Marketing Solutions (http://www.joinstratosphere.com) today announced it has entered into an exciting new Cross-Promotion agreement with BGA Premier Insurance Solutions (http://www.BGApremierinsurance.com). The agreement brings significant value to each company's client base, offering web design and Internet marketing services to BGA clients, and offering a wholesale outlet for Life, Annuity, and Long-Term Disability insurance products to Stratosphere's over 300 Independent P&C Agencies.
BGA Premier Insurance Solutions (BGA) is a premier Life Insurance Brokerage General Agency representing Life, Annuity, Long Term Care and Disability insurance products. BGA has contracted with top-tier carriers throughout the US and has the ability to offer a comprehensive suite of solutions to meet the client's needs. BGA shines in the Advanced Market and Impaired Risk (hard to medically underwrite) cases. Dina Mabry, Managing Director of BGA Premier Insurance Solutions, Inc. heads the LTC division and is an expert in guiding clients with their Long Term Care planning.
Stratosphere Marketing Solutions, Inc. (SMS) provides complete end-to-end digital marketing programs for busy small business professionals. SMS has been helping small businesses of all kinds leverage the power of the Internet, thru custom web design, SEO, blogging, Social Media, Retargeting and many other mediums for marketing and staying connected online. In addition to their specific expertise in reputation management and driving sales via Internet search points and Social Media traffic.
"We're so pleased to be able to offer web design, SEO, blogging, social media marketing, and other online resources for the producers of such an industry powerhouse as BGA. BGA adds value every day to the producers they serve, and we are thrilled to add an additional dimension of value in helping these producers best market themselves in the digital world with a turn-key program that doesn't break their marketing budget!" said Casey Preston, COO of Stratosphere.
"We are very excited to launch our relationship with Stratosphere. Many P&C agencies and financial advisors could add substantial revenue to their bottom line by offering Life and Long Term Care insurance to their existing base. BGA makes that a simple and seamless possibility. To partner with a group as well respected and connected as Stratosphere is a boon for BGA Premier Insurance Solutions!" said Scott Thurman, Managing Director of BGA Premier Insurance Solutions, Inc.
Both organizations expect to see significant success from the partnership. The synergy created will potentially help hundreds of producers throughout the Country.