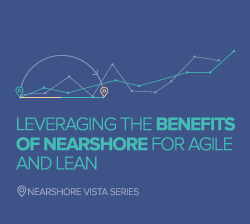 "Latin America offers efficient and high quality for Nearshore Outsourcing services using Agile and Lean methods"
San Antonio, Texas (PRWEB) November 18, 2014
Making Sense is proud to be part of the NEA's webinar presenting its VidTac success story. Juan De Abreu, VP, Director of Client Services at Making Sense, will share all the details, the procedure and the results of a software project that Making Sense developed for one of its clients, Rackspace.
The main objective of this webinar is explaining the benefits and advantages of Nearshore for Agile and Lean methods and its contribution to cost-reduction and better time-to-market, visibility and problem-solving mentality.
Together with Juan De Abreu, Luis Saldaña, VP Business Development & CTO at Dextra Technologies and Felipe Brito, Business Director at CI&T will be the two other panelists of the webinar, sharing their companies experiences.
It is well known that Nearshore Outsourcing has its benefits, such as sharing the same time zone, the same working day, a similar business culture and the most important thing is that it offers a high quality of technical professionals. On account of this, the NEA was created, the first non profit organization founded by a broad selection of Nearshore industry leaders and business executives from across Latin America, whose passion and commitment boosted them to increase development and sustainability in the region.
NEA was founded with the objective of raising awareness about the capabilities that the Americas offer and increasing the use of the Nearshore delivery model. Among the activities that NEA develops, setting a strategic direction for the industry, sharing their best practices, enabling collaboration, and developing international partnerships and affiliations, can be highlighted. Networking, proactive networking and collaborative initiatives offers, are some of the benefits that you have as an IT company, when becoming part of this organization.
Making Sense is proud to be part of the NEA and to continue providing software products and projects that stand out for their quality. Our professionals' commitment, dedication and passion make us proud to be present in this webinar shearing on of our success story.
About Making Sense
Making Sense is an IT company that has specialized in the development and implementation of software and web applications for different companies since 2002. It has over 120 employees who work in different offices located in United States, Argentina and Mexico.
The company offers the latest software development strategies, and has many partners worldwide. Some of its most prominent clients include Rackspace, DELL and AMD. The products Making Sense is well-known for include Doppler™, the most widely used email marketing tool in Latin America, which allows users to create, send, analyze and optimize email marketing campaigns very simply, quickly and effectively, and Lander™, a software tool that enables the creation of landing pages in minutes.
In recognition for its work in fostering ArgenTIna IT outsourcing to the U.S., Making Sense received a special mention at the Polo IT Buenos Aires event in December 2012 and was chosen as representative to the United States ArgenTIna IT office in Austin, Texas.
Consistently demonstrating a high degree of technical excellence, Making Sense is passionate about and maintains a strong commitment to offering outstanding service and quality custom software products.
In 2013, two products developed by Making Sense were nominated for very prestigious Sadosky Awards:
VidTac gives police department patrol cars high definition video capability while cutting equipment costs. It was developed through collaboration with COPsync, which operates the nation's largest real-time information sharing, communication and data interoperability network for law enforcement agencies.
Lander is the previously mentioned easy-to-set-up landing page platform with clients in over 132 countries.
The Sadosky Awards are given each year by CESSI, The Chamber of Software and Computer Services of Argentina, in honor of Manuel Sadosky, an illustrious scientist widely regarded as the father of the Argentinian computer science profession. They celebrate and honor excellence and innovation in the Argentinian software industry.
Making Sense is pleased and honored to announce that Lander won the 2013 Sadosky Award in the category of Best Information Entrepreneurship Product.