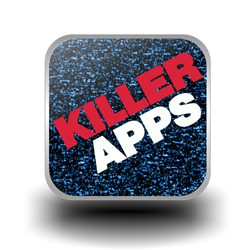 We wanted to look at a number of tech gadgets along with websites and apps that were fun, useful and convenient for travelers.
West Palm Beach, FL (PRWEB) November 18, 2014
The holidays are among the busiest long-distance travel periods of the year. Nearly 30 percent of Americans are expected to take a trip this holiday season. Out of the expected 94.5 million Americans, 9 of 10 will travel by car. Highway traffic, busy airports and endless security lines can make traveling an extremely stressful time.
Digital Lifestyle Expert Mario Armstrong worked with the following companies during the media tour to showcase some of the technology, websites and mobile apps that will relieve some of the holiday travel stress! The tour is featured on the consumer technology lifestyle website http://www.KillerApps.TV.
"We wanted to look at a number of tech gadgets along with websites and apps that were fun, useful and convenient for travelers." said News Media Group's Executive Producer, Karl Wayne. "Travel can be stressful, but we felt choosing the right technology could help deliver a better travel experience."
Here are some of tech tools that were featured during the tour.
Amazon Kindle and Kindle Voyage. All Kindle e-readers feature displays that are easy to read with no glare, have battery life that is measured in weeks not hours, and are lightweight and easy to read on for hours. Consumers can choose from three different Kindle e-readers: Kindle, with a 20% faster processor, twice the storage and touch display; Kindle Paperwhite, the best-selling Kindle since its introduction; and Kindle Voyage, with the brightest, highest contrast, and highest resolution display ever on a Kindle. Pricing for the Kindle is $79 and Kindle Voyage is $199. Visit http://www.amazon.com/kindle and http://www.amazon.com/kindlevoyage for more information.
Nexia™ Home Intelligence is today's leading home automation system that is setting the industry standard by offering the best technology, supporting leading house brands and allowing consumers to efficiently run their home from anywhere. Nexia™ Home Intelligence is designed for every lifestyle offering users flexibility to manage their home via any smart phone, tablet or computer using Z-Wave technology. Simply customize the system based upon one's individual needs and budget, and it's completely scalable with the user's home and technology as they grow. Nexia Home Intelligence's service is priced at $9.99 a month. To purchase or for more information, visit http://www.nexiahome.com.
The HTC Desire EYE is the ultimate imaging phone with one of the best front-facing cameras available on the market today and software that puts anyone center frame and looking their best. Sporting market-leading 13MP front and rear cameras that allow the photographer to zoom, crop and print without compromise. For those who love to take great photos, videos and selfies, the HTC Desire EYE is fully equipped with BSI sensors that capture crisp photos even in low-light conditions, and an intelligent dual-LED flash on both cameras that ensure flattering, natural tones even when ambient light levels are low. Visit http://www.htc.com/us/smartphones/htc-desire-eye for more information.
Airbnb is a leading hospitality company and trusted community marketplace for people to list, discover, and book unique accommodations around the world. Whether an apartment for a night, a castle for a week, or a villa for a month, Airbnb connects people to unique travel experiences, at any price point, in more than 34,000 cities and 190 countries, and provides a sense of belonging and place wherever travelers may go. Visit http://www.Airbnb.com for more information.
GasBuddy is a price comparison app that helps users find the cheapest place to fill-up near them. The award-winning app list all the gas stations in the surrounding area along with their current prices. The gas prices listed are crowd-sourced, meaning the millions of active GasBuddy users are the ones inputting the prices on a daily basis. With over 43 million downloads, users can rest assured that the prices are accurate. GasBuddy is free and available on various mobile platforms as well on the web. Visit http://www.gasbuddy.com for more information.
For more information about any of the featured products, visit http://www.KillerApps.TV.
About News Media Group Inc.
Founded in 2009, News Media Group Inc. (NMG) produces original television and radio programming with industry experts and celebrities that help public relations professionals gain media exposure for their brands and clients. Based in West Palm Beach, Fla., with studio locations in South Florida, New York and Los Angeles, News Media Group is a leader in organizing and producing high profile Co-Op and Exclusive Satellite Media Tours (SMTs), Radio Media Tours (RMTs) and Ground In-Studio Media Tours (GMT's) throughout the year with Fortune 500 and other leading companies and public relations agencies. NMG shares these trends with consumers through its technology website, KillerApps.TV, and its consumer lifestyle website, InTheNews.TV and their "What's #Trending Now" segments. Visit http://www.newsmg.com to learn more.
Contact:
Karl Wayne, Executive Producer
News Media Group Inc.
(334) 440-6397
Karl(at)newsmg(dot)com