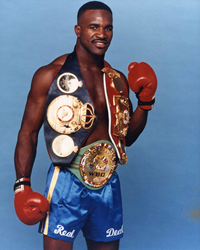 "Sports Shop Network is an opportunity that I couldn't pass up being involved with. I think the business model is not only very creative, but a great place for sports fans to take advantage of sports deals." Evander Holyfield
Boca Raton, Florida (PRWEB) November 14, 2014
Sports Shop Network (SSN) is thrilled to announce Evander "The Real Deal" Holyfield (http://www.evanderholyfield.com/) has joined its boxing advisory board. The five time World Heavyweight Champion will serve as a spokesperson for SSN with a focus on elements of boxing, workout, health and lifestyle segments on SSN.
This agreement adds the appeal only a name recognized around the world like Evander Holyfield's can bring to attract boxing fans and sports fans worldwide to SSN (http://www.sportsshopnetwork.com).
As part of the agreement, SSN has the exclusive rights to sell Mr. Holyfield's upcoming Real Deal Workout DVD. His DVD will provide inspiration to beginners as well as offering those who are very serious about their physical fitness a training program to increase their physical prowess, their mental focus and their spiritual development, all in 30 minutes or less.
Other contributions from Mr. Holyfield to SSN include in-person appearances at Sports Shop Network kiosks where fans have an opportunity to have their picture taken with him at major sporting events like boxing matches, NASCAR races, NFL games and other fan favorite venues.
Mr. Holyfield said, "Sports Shot Network is an opportunity that I couldn't pass up being involved with. I think the business model is not only very creative, but a great place for sports fans to take advantage of sports deals."
Fighters Mr. Holyfield defeated include former heavyweight champions like George Foreman, Larry Holmes, Riddick Bowe and Mike Tyson. Two of those fights were amongst the most bizarre moments in the history of prizefighting. The first was the rematch with Riddick Bowe in Las Vegas in 1993 known as the Fan Man Fight when a man in a parachute attempted to land in the ring. The other was one of the most controversial fights of all time known as The Bite Fight when Tyson was disqualified for biting Holyfield's ears two times.
SSN combines an ESPN broadcast format giving viewers content from up to 54 various sports with a home shopping approach. Having a brand name like Mr. Holyfield on board brings instant credibility to the SSN's boxing presentations and its innovative approach to sports presentations.
SSN programming includes excellent entertainment, the latest sports news and opportunities to purchase sports related merchandise from the best known brand names at huge savings.
Get the feel for the power of Sports Shop Network in this video.
Wayne Wiggins, CEO of SSN said "Having Evander Holyfield on board will assist Sports Shop Network to attract an international audience and give his fans an opportunity to learn more about this amazing man with on-air and in-person appearances. He will also share the methods that helped him become a five time world heavyweight champion through his workout DVD."
The list of other prominent people that have expressed interest in working with SSN include household names like Sir Richard Branson and Brandon Steiner of Steiner Sports. The NFL Network, the NBA Network, the MLB Network, NASCAR and MMA along with other key sports content providers have also indicated their interest in SSN (http://www.sportsshopnetwork.com).
Along with having the exclusive rights to Mr. Holyfield's DVD, SSN offers merchandise from well-known brands like Nike, Puma, Adidas and Reebok will be featured along with a variety of sports nutrition, weight loss products, outdoor and fitness related gear, travel services and other merchandise supporting an active life-style. In addition to the SSN online store, future plans include creation of stores on major e-commerce web sites like Amazon and E-Bay.
Leading SSN's strong executive team is CEO Wayne Wiggins. Mr. Wiggins, a two time Emmy Award winner, brings his 40+ years of extensive experience in broadcast TV, film, advertising and program syndication to SSN. It is his vision that is driving SSN's experienced executive team to create this next incarnation of content driven merchandise sales to the public.
Mr. Wiggins said, "Sports Shop Network is a unique, cutting edge, home shopping type program that sells sports, recreation, memorabilia, health and nutrition related name brand products directly to the consumer, bypassing the middle man."
He also points out, "Our programs are host based, taped live in the studio or on location at all major sporting events such as the World Series, Super Bowl, PGA, NASCAR, All-Star Games, NBA and NCAA Finals, just to name a few. Sports celebrities are a common feature during our programming day, thus giving major names the opportunity to sell product."
Supporting SSN is going to be an interactive, live streaming website and mobile application that will provide the audience with a user-friendly way to partake in the on-air and on-line shows and to purchase the products and services being presented. The entire inventory from every broadcast will be available to customers 24/7. This effectively enables SSN to appeal to customers driven by need as well as impulse.
In the spirit of giving back, SSN works with multiple charities through America Cares International (http://www.americacaresinternational.org ), a non-profit that raises money for American based charities like the Make-A-Wish Foundation. 100% of all proceeds from donations are sent to the charity selected by the donor.
For further details on the relationship between Sports Shop Network (http://www.sportsshopnetwork.com) and Evander Holyfield (http://www.evanderholyfield.com) please contact Dalilah Santini.
CONTACT INFORMATION
Dalilah Santini
800-650-5124 x313
dalilah.santini(at)sportshopnetwork(dot)com
Safe Harbor
This press release contains forward-looking statements within the meaning of Section 27A of the Securities Act of 1933, as amended, and section 21B of the Securities and Exchange Act of 1934, as amended. Readers are cautioned not place undue reliance on these forward-looking statements, which are only predictions and only speak as of the date hereof. Forward-looking statements usually contain the words "estimate," "anticipate," "believe," "plan," "expect," or similar expressions and are subject to numerous known and unknown risks and uncertainties. These risks and uncertainties could cause the Company's actual results to differ materially those indicated in the forward-looking statements. Investors are encouraged to carefully review regulatory filings prior to investment consideration. Past performance is no guarantee of future success or that there cannot be losses or business interruption. The Company is in a rapid growth sector that may or may not continue to grow in the future and therefore poses risks that may be different than other investments. Management regularly provides news and additional information believed to be true and accurate at the time of dissemination but has no requirement to modify, comment or change in the future should circumstance change or information prove to be inaccurate for any reason. Additionally, the Company makes every effort to comply with all applicable laws. The definitive agreement associated with this acquisition has not been signed and is subject to a shareholder vote.