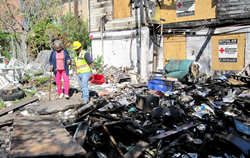 St. Louis, MO (PRWEB) November 18, 2014
The American Red Cross of Eastern Missouri today recognized 1-800-BOARDUP for its support of Red Cross disaster response work through the Disaster Responder Program.
Members of the Red Cross Disaster Responder Program pledge donations on an ongoing basis, in advance of major disasters, to help the Red Cross ensure an immediate response to meet the needs of those affected by disasters of all sizes, at no cost and regardless of income.
"Thanks to the support of 1-800-BOARDUP and other companies and foundations, the Red Cross can immediately respond to the needs of people impacted by disaster," said Cindy Erickson, regional chief executive officer. "Members of this program generously help create reliable fund for disaster relief services, which enables us to provide food, shelter, emotional support and other essential assistance to disaster victims."
"The initial concept of our 1-800-BOARDUP emergency structural stabilization service was actually born from my past experience working with victims on fire scenes as a Red Cross Disaster Action Team member many years ago," said Michael Hosto, president and founder of 1-800-BOARDUP. "Seeing the two organizations come together now to serve disaster victims all across America is a rewarding experience for all of the emergency service providers that proudly wear our 1-800-BOARDUP Dalmatian logo."
Other members of the Disaster Responder Program include major leading companies such as Alcoa; ArcelorMittal; AstraZeneca; AT&T; AXA Foundation; Ball Foundation; Carlson Rezidor Hotels; The Clorox Company; Delta Air Lines; Farmers Insurance; Ford Motor Company; General Motors Foundation; H&M; H&R Block; Ingersoll Rand Foundation; Land O'Lakes, Inc.; Marsh & McLennan Companies; MetLife Foundation; Morgan Stanley; New Balance Foundation; Northwestern Mutual and the Northwestern Mutual Foundation; Procter & Gamble Company; PSEG Foundation; PuroClean; Residence Inn by Marriott; Ryder; San Diego Gas & Electric (SDG&E); Starbucks Coffee Company and Starbucks Foundation; Starwood Hotels & Resorts Worldwide Foundation, Inc.; State Street; Sunoco; Swiss Re Foundation; T O Y O T A; UBS Americas; US Bank; and Western Union Foundation.
People can join the Disaster Responder members in supporting Red Cross Disaster Relief and help provide food, shelter, emotional support and other assistance to the victims of thousands of disasters across the country each year. Visit redcross.org or call 1-800-RED-CROSS (1-800-733-2767) to make a donation.
About the American Red Cross:
The American Red Cross shelters, feeds and provides emotional support to victims of disasters; supplies about 40 percent of the nation's blood; teaches skills that save lives; provides international humanitarian aid; and supports military members and their families. The Red Cross is a not-for-profit organization that depends on volunteers and the generosity of the American public to perform its mission. For more information, please visit redcross.org or visit us on Twitter at @RedCross.