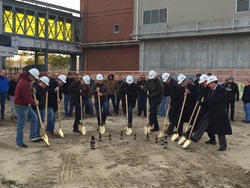 "Under an aggressive timeline, CRB's ONEsolution™ approach to design and construction is exactly what Boulevard is looking for to execute the expansion project."
Kansas City, Missouri (PRWEB) November 14, 2014
CRB, an international full-service engineering, architecture, construction and consulting firm, announced today that it has been awarded the Cellar 5 expansion project for Boulevard Brewing Company.
The 15,850-square-foot expansion includes the construction of a cellar along Southwest Boulevard that will support up to 12 new fermentation vessels. "The vessels are an immediate need as Boulevard is running out of fermentation room to support capacity," said Mike Utz, Process Engineer, Boulevard Brewing Company. "Under an aggressive timeline, CRB's ONEsolution™ approach to design and construction is exactly what Boulevard is looking for to execute the expansion project."
CRB's design will introduce several value-added and innovative features to the Boulevard site. The new structure will have a continuously insulated building envelope, skylights located in the cellar to provide natural daylighting, and a decorative steel scupper system along a portion of the roofline that will naturally irrigate the landscaping.
"Like Boulevard, CRB got its start in Kansas City," said Charles Jabara, CRB Project Manager. "We are excited to bring our firms together. CRB is confident that our experience on similar expansion projects will lead to the overall success of this project."
About CRB
CRB is a full-service network of engineers, architects, constructors and consultants assisting advanced technology organizations in the planning, design, construction and operational support of facilities across the globe. With world-class technical expertise and an empowered team of 700-plus, we relentlessly pursue and deliver the right solutions to our clients' technical challenges, no matter how big or small.
Founded in 1984, CRB has thirteen production offices located in: Kansas City, Mo.; St. Louis, Mo.; Raleigh, N.C.; Philadelphia, Pa.; San Diego, Calif.; San Jose, Calif.; Los Angeles, Calif.; San Juan, Puerto Rico; Kalamazoo, Mich.; Boston, Mass., Boulder, Colo., Rockville, Md., and Atlanta, Ga.
###