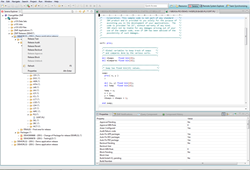 ChangeMan ZMF v8 reduces the complexity of parallel and concurrent development and significantly improves the deployment and release capabilities across all mainframe environments.
San Mateo, California (PRWEB) November 17, 2014
Serena Software, the largest independent provider of Orchestrated Application Development and Release Management solutions, today announced the availability of a major new version of ChangeMan ZMF, the industry-leading software change, configuration and release management solution for mainframes running z/OS. Version 8 of ChangeMan ZMF includes significant new capabilities to enable fast, modern development on the mainframe, the business platform used by over 90% of the Fortune 500.
These leading enterprises are under pressure to deliver software innovation rapidly to satisfy the expectations of their customers, while maintaining high quality and reducing cost. This innovation crosses platforms, involving development teams from mobile to mainframe. Agility and accelerated application delivery is required across all platforms, but frequently companies struggle to deliver mainframe changes at the pace that the business demands. Out-of-date development tools, manual deployment processes and poor integration all inhibit mainframe application delivery from satisfying the requirements of today's demanding customers.
New Serena ChangeMan ZMF v8 capabilities enable mainframe application teams to deliver more features faster and at lower cost without compromising the enterprise scalability, security and integration expectations of the mainframe platform. This makes ChangeMan ZMF v8 the ideal solution for mainframe teams that are under pressure to deliver high-quality, valuable software in an efficient, fast and reliable manner.
ChangeMan ZMF v8 is unique in enabling fast and easy software change and configuration management (SCCM) practices for both modern and legacy applications running on z/OS. For example, ChangeMan ZMF v8 is the only SCCM solution that enables Java developers to develop, deploy, test and release software changes to the mainframe from within their desktop Eclipse IDE.
"ChangeMan ZMF v8 reduces the complexity of parallel and concurrent development and significantly improves the deployment and release capabilities across all mainframe environments," said Al Slovacek, Vice President of Mainframe Products at Serena Software. "We worked closely with our customer advisory board, beta customers and special interest groups to design and validate these new capabilities, and the response from all of them is overwhelmingly positive."
Top 3 New Serena ChangeMan ZMF Capabilities
To accelerate mainframe application delivery, Serena ChangeMan ZMF v8 delivers many important new capabilities, including:
1. Release and Deploy Support For Eclipse and Windows Clients
Serena ChangeMan ZMF v8 now provides development, release and deployment support for both Eclipse and Windows environments. This enables developers, release managers and business stakeholders to manage mainframe deployments and releases from a distributed client. Development teams can now develop and manage components in motion as they transition across multiple test environments while supporting multiple releases. ChangeMan ZMF v8 ensures that developers are always working on the correct version of the component. Release Managers can deploy and manage the release as it transitions across the "path to production." Business stakeholders can provide feedback to the release team as the release transitions to production.
2. Support for High Level Language Customization Exits (HLLX)
Customers can now implement customer-specific business logic within ChangeMan ZMF v8 using High Level Language Exits (HLLX). This enables customers to modify ChangeMan ZMF process logic using REXX or any other supported high-level language. Pre and Post exit points are implemented at strategic points within the ChangeMan ZMF workflow and are called across both mainframe and distributed clients. This enables continuity across all your ChangeMan ZMF clients including web services. HLLX support gives enterprises flexibility in their overall SDLC at a significantly lower total cost of ownership.
"We tested the HLLX feature and were extremely impressed at the flexibility in which we could modify the behavior of ChangeMan ZMF. This allows us to leverage the development process as a clear competitive differentiator," said Johan Jacob, ChangeMan ZMF consultant and v8 beta tester.
3. Global Application Administration Update
ChangeMan ZMF now gives administrators the capability to update application parms globally across all applications. This enables administrators to spin up, modify, or tear down development and test environments very quickly. Users can now propagate application parameter changes to multiple applications at one time.
Over 450 additional feature enhancements improving performance, security, usability, development and administration are included in Serena ChangeMan ZMF v8, highlighting the continued investment that Serena Software is making in this strategic product used by hundreds of the world's most important companies.
Availability and Additional Information
Serena ChangeMan ZMF v8 is available today directly from Serena Software or the company's network of partners worldwide. Current customers can download the latest versions from the company's support website.

About Serena Software
Serena Software provides orchestrated application development and release management solutions to the Global 2000. Our 2,500 active enterprise customers, including a majority of the Fortune 100, have made Serena the largest independent ALM vendor and the only one that orchestrates DevOps, the processes that bring together application development and operations. Headquartered in Silicon Valley, Serena serves enterprise customers across the globe. More information is available on the company's website at http://www.serena.com.