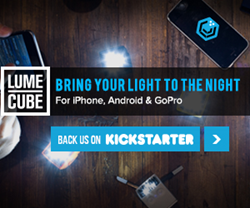 "Lume Cube is a culmination of our careers, hobbies, technical capabilities and friendships. Nothing else like it exists on the market, and we are proud to offer it to everyone who loves to create imagery," said Mornee Sherry, CEO of Think-Eleven.
San Diego, CA (PRWEB) November 18, 2014
Today, Think-Eleven, a San Diego based business development and consulting agency and IC12, an electronics and product design firm, announced the launch of its joint Kickstarter campaign for the Lume Cube. Controlled via a wireless Bluetooth-enabled app, the Lume Cube is a powerful and ultra-portable lighting tool that will open new creative possibilities for photographers and videoagraphers of any skill level looking to get the most out of their smartphone cameras, action cams and more traditional digital cameras. An array of backer packages are available starting at $59, and the Kickstarter campaign page can be found at: http://kck.st/1uFl2V2
The Lume Cube is a compact and versatile light source making both stills and video captures possible at night for smartphones and sport-cams. Measuring only one-and-a-half inches, the water resistant Lume Cube produces 1,500 lumens of light in either video mode, for a continuous light source, or flash mode for photos. Encased in a variety of colorful rubber shells the Lume Cube is water resistant and can magnetically attach or suction to just about any surface making this light-weight LED ready to deliver on just about any creative impulse.
In addition to this new level of portability, Lume Cube also simplifies its lighting controls with a proprietary wireless, Bluetooth-enabled app (available on both iOS and Android). Able to control up to five Lume Cubes simultaneously, the app was designed to be intuitive enough for the most novice smartphone shooter looking to add extra light to late night selfies, while offering enough fine control for experienced photographers to create images impossible to consider with traditional off-camera solutions. The app allows users to adjust the brightness, flash duration and red eye latency on each Lume Cube independently; and with its onboard optical sensor, Lume Cube can be configured as a slave unit to be fired by another external flash.
"Lume Cube is a culmination of our careers, hobbies, technical capabilities and friendships. Nothing else like it exists on the market, and we are proud to offer it to everyone who loves to create imagery," said Mornee Sherry, CEO of Think-Eleven. "I believe Lume Cube will be a true game changer for anyone who has been looking to shed a little light on their memories."
Lume Cube's compact profile and powerful LEDs also make it an ideal solution for the more adventurous action cam shooters looking to illuminate a nighttime ski run or surf session. Lume Cube features an embedded ¼"-20 threaded attachment screw so it can connect to just about any standard light stand/accessory, and will launch with a roster of proprietary accessories including a fully waterproof case (waterproof up to 130 feet), magnetic base plates for banking multiple Cubes, as well as the dual and quad GoPro mounts for attaching two or four Lume Cubes, respectively.
"The Lume Cube is a revolutionary little light. As avid photographer's first, we noticed a fundamental problem with the small sensors in smartphones and action cameras. We realized there is not a versatile, portable, power packing light in the market to solve this problem, until Lume Cube" said Nathan Oxley, Managing Director, IC12. "We are confident that Lume Cube will be a huge hit, not only with the Kickstarter community but with photographers of all skill levels."
Lume Cube is ready for production, and with the help of the Kickstarter community, will be available to general consumers everywhere in February 2015. For more information on Lume Cube, as well as available backer levels, please visit the campaign Kickstarter page at: http://kck.st/1uFl2V2 and to stay informed about updates visit http://www.lumecube.com.
About Think-Eleven
Think-Eleven (http://www.think-eleven.com) is a San Diego based visionary agency. We focus on business development, sales and marketing. First established in 2011, Think-Eleven acts as a bridge to profitability for our ever-growing list of clients. We continue to build competitive advantages and values for our clients in this increasingly competitive market. As a reliable partner, Think-Eleven additionally offers a creative chemistry to assure its clients domestic and multinational success. Offering valuable insights and intelligent solutions Think Eleven plays an imperative role in business development, app and product development, public relations and marketing. "On a scale of 1-10, we Think-Eleven."
About IC12
For over 10 years I C One Two (http://www.ic12.com.au) has been a leading online solutions company developing full-featured, easy-to-use custom development solutions predominantly for photographic awards and competitions. With the company's strong technical knowledge and understanding of photographers needs I C One Two moved into designing and developing new generation LED based lighting products for the photographic sector. Based in Melbourne Australia, I C One Two has a team of world class electronic and product designers and manufacturers all of its products in house to ensure a high standard in quality and reliability.
###
Contact
Think-Eleven
Manager of Marketing
Ashley Hernandez
Telephone: +1 858-352-6067
ashley(at)think-eleven(dot)com