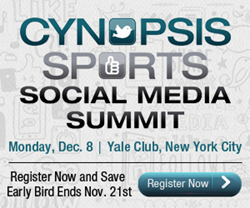 New York, NY (PRWEB) November 14, 2014
Cynopsis Sports is proud to announce the social media elite at the 2014 Social Media Summit, set to take place in New York City on Monday, December 8. With special presentations from executives at Facebook, Google and Twitter, along with panels and case studies from leagues, networks, brands and digital platforms, the inaugural event is stacked with the sports industry's most influential minds who will be shaping how fans interact with their favorite teams for generations to come.
Special sessions are scheduled to feature keynotes and Q&As with: Laura Froelich, Head of Sports Development at Twitter; Dan Reed, Head of Global Sports Partnerships at Facebook; and Frank Golding, currently Director at Google. Other key executives set to take the stage in featured presentations include: Major League Gaming President Mike Sepso, Co-Founder and President of Major League Gaming and Bleacher Report's Dorth Raphaely, along with panels that include the NBA, NHL, Lockerdome, NBC Sports, Turner Sports, EA Sports, StumbleUpon, MVPIndex, Showtime, OneTwoSee, opendorse, Catalyst, The Whistle Sports Network, USA Today Sports Media Group, Evolve and more.
Dan Reed serves as the closing keynote at the industry event and is now Facebook's Head of Global Sports Partnerships, where he leads the company's efforts to connect hundreds of millions of sports fans on Facebook and Instagram with their sports passions. In this role, Reed manages strategic partnerships with sports leagues, teams, athletes, broadcasters and publishers around the world to help these partners connect with fans, and build innovative social experiences that drive their business. Reed joined Facebook after a 10-year career at the National Basketball Association recently serving as President of the NBA Development League.
Laura Froelich will serve as the event's opening keynote and now leads sports partnerships and programming for Amplify, Twitter's real time, in Tweet video product. In her five years at CBS, she devised product marketing and monetization strategies for premium sports content from NCAA March Madness, NFL and NCAA football, The Masters, and PGA Tour golf, as well as the award winning suite of fantasy games from CBSSports.com.
Frank Golding is currently a Director at Google advising on product, sponsorship and creative strategy projects and will sit down for a candid Q&A about the future of video and advertising in sports. He was formerly YouTube's Head of Sport for North America, building sports partnerships for leagues, teams and athletes – across professional, college and high school entities — helping them connect more deeply to YouTube's one billion monthly users. Prior to YouTube, he spent nearly nine years at ESPN working on digital deals across all of ESPN's domestic content platforms.
The one-day event will be held at the Yale Club in New York City and attendees will be immersed in the strategies and tactics that have proven successful for some of the world's biggest brands and gain insight on the latest trends and tools that are driving social media today. For details, go to http://www.sportssocialmediasummit.com.
For questions regarding attending the event, contact Pete Romas at pete(at)cynopsis(dot)com or go to http://www.sportssocialmediasummit.com/venue-faq. For sponsorship information, contact Vice President of Sales and Marketing Mike Farina at mike(at)cynopsis(dot)com.
About Cynopsis Media
Cynopsis Media is a division of Access Intelligence LLC. The Cynopsis Media family of products includes Cynopsis, Cynopsis Digital and Cynopsis Sports daily e-publications, weekly Cynopsis Kids and Cynopsis Classified Advantage e-publications, Special eReports, Event/Summits and a strong database of Classifieds and more. Visit cynopsis.com.