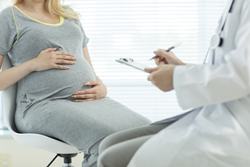 The choices older mothers-to-be make before conception can have a lasting effect on the health of both the mother and the baby.
Santa Rosa, CA (PRWEB) November 14, 2014
Any woman who is considering pregnancy in her future naturally wants to have the healthiest pregnancy possible – and healthiest baby possible. One way to help ensure a positive outcome is by planning for it ahead of time, a tactic that can be particularly important for obese women. Recently released results of an ongoing Healthy Moms study underscores the importance for women who have weight issues prior to pregnancy to participate in a preconception planning process. In this way it is much more likely that they will be able to limit their weight gain during pregnancy and are then less likely to have large babies, which can complicate delivery and increase the baby's risk of becoming obese later in life.
What is Preconception Healthcare
Preconception healthcare is medical care typically provided to a woman by the doctor or other health professionals and is designed to increase the chances of having a positive pregnancy experience and a healthy baby. When most people hear the term preconception healthcare, they think about women but when it comes to planning for a pregnancy, it's important for men, too.
Preconception healthcare is uniquely designed for every individual, depending on personal needs and circumstances. When women and their families are planning for a baby, the Women's OBGYN Medical Group encourages parents to begin making healthy lifestyle changes up to one full year prior to trying to get pregnant. This process improves the chances of becoming pregnant and prepares a woman's body to provide the best environment for her infant. Based on a person's health, the doctor or healthcare provider may suggest a course of treatment or follow-up care.
The goal of preconception care is to discover lifestyle and health factors that might affect pregnancy. Identifying these factors before becoming pregnant will make it possible for parents to take steps to increase the chances of a healthy pregnancy and a healthy baby. During a preconception care visit, the healthcare provider will typically focus on diet, lifestyle, medical and family history, previous pregnancies and currently prescribed medications. Topics to be discussed may include:

Alcohol, tobacco, and caffeine use
Recreational drug use
Birth control
Environmental concerns (including any toxic substances at work or at home that may impact fertility and overall health)
Health issues & concerns (diabetes, high blood pressure, depression, obesity, etc.)
Possible testing for Hepatitis B and C & Sexually transmitted diseases (STDs)
Medications, Vitamins and Supplements
Taking steps to prepare mentally and emotionally for pregnancy and parenthood is also a very important part of the preconception process. It is important to discuss expectations and concerns with your partner, family and close friends. Making appropriate financial adjustments for both expected and unforeseen costs associated with childrearing are also important considerations to take as is preparing for childcare with employers for after the baby is born.
Supplements vs. Food
Eating a nutrient rich and calorie conscious diet prior to and during pregnancy can help prevent excessive weight gain and cut the potential risk of obstetric complications. Since one of the most important changes to consider before pregnancy is to the diet, adding supplements or including nutrient rich foods will help to build a healthy physical environment for both mother and baby. Foods that contain sources of folic acid (vitamin B9) are important nutritional elements to incorporate into both the preconception and pregnancy diet. Folic acid helps to prevent some birth defects – particularly those affecting the brain and spinal cord. Folic acid is best taken before pregnancy and in the very early stages of pregnancy. It is found naturally in foods such as;

leafy, green vegetables (spinach, collard greens, romaine lettuce)
fortified breakfast cereals
beans, peas and lentils
citrus fruits
asparagus
broccoli
Since it is often difficult to get enough essential vitamins including folic acid from food alone, taking a multivitamin is a good way to add nutrients to the diet. Iron is also an important component to take during pregnancy as iron deficiency can be a problem for some women. It is essential for supplying oxygen rich blood to the developing baby. Although the bulk of nutrients should ideally come from eating fresh healthy foods, it is generally recommended that women start taking a prenatal vitamin supplement before pregnancy. Prenatal vitamin supplements are specifically formulated to contain all the recommended daily vitamins and minerals needed before and during pregnancy.
Men and Pregnancy
Whether you are a man or a woman considering pregnancy, preconception healthcare is about providing yourself and your loved ones with a healthy future. Preconception healthcare for men mainly focuses on overall health and lifestyle choices - to get and stay as healthy as possible. It is also about helping and supporting others as they get healthy, too.
Fertility is one aspect of preconception planning that men might want to take into consideration. There are common lifestyle factors that can cause a man's sperm count to become low and affect the quality of semen and create low sperm count – all of which can make it difficult to get pregnant.
Some habits that can affect sperm count include;

alcohol consumption
tobacco use
steroids
illegal or recreational drugs
certain prescription drugs and over-the-counter medicines
sauna, hot tub, or whirlpool use over 102° F
an unhealthy diet
About Women's OBGYN Medical Group
Planning ahead and taking steps to ensure optimal pre-pregnancy health is a great way to create a healthy family. Whether you are a man or a woman, taking the time to plan a pregnancy and taking steps to improve your health now will help to ensure a better quality of life for both you and your family. The Women's OBGYN Medical Group provides an experienced team of physicians, nurse midwives and nurse practitioners who are able to deliver comprehensive, compassionate preconception, pregnancy and post-partum care to patients and their families in a comfortable environment close to home. For more information visit our website or call (707) 579-1102.
--
Resources:
Centers for Disease Control and Prevention. Recommendations to improve preconception health and health care—United States. MMWR Recommendations and Reports. 2006;55(RR-06):1–23.
1) Kimberly K. Vesco, Njeri Karanja, Janet C. King, Matthew W. Gillman, Michael C. Leo, Nancy Perrin, Cindy T. McEvoy, Cara L. Eckhardt, K. Sabina Smith, Victor J. Stevens. Efficacy of a group-based dietary intervention for limiting gestational weight gain among obese women: A randomized trial. Obesity, 2014; 22 (9): 1989 DOI: 10.1002/oby.20831