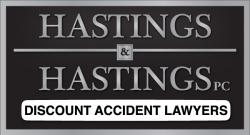 Phoenix, AZ (PRWEB) November 13, 2014
Hastings and Hastings, a discount attorney in Arizona with decades of experience, announces new demand for legal representation associated with boating accidents in 2014. The summer months typically mean that there will be more boating related accidents. This previous summer was no different with a large number of accidents occurring on lakes throughout the region. In many instances, those who have been injured through no fault of their own in a boating accident can often achieve excellent results in terms of a recovery by working with an experienced and dedicated team of personal injury attorneys in Arizona. Known for discounting fees and never discounting service, Hastings and Hastings is a firm that has stood the test of time.
Hastings and Hastings is also a proud partner of the Special Olympics in Arizona and enjoys favorable reviews with Google + and other similar online resources. The firm also recently implemented a simple to navigate and highly intuitive website that makes it easy, convenient and effortless for clients to learn more about the firm. The website also offers a variety of frequently asked questions and resources that can help clients make a more informed decision when it comes to choosing an attorney. Those who have been injured due to the negligence of another individual often require quick and decisive legal representation to improve the chances of obtaining a recovery.
From dealing with the statute of limitations to addressing issues associated with witnesses and preserving evidence, clients that choose to move quickly and decisively will typically enjoy better results when it comes to achieving a recovery. Most importantly, Hastings and Hastings offers a discount fee structure that is intended to ensure that clients retain a greater portion of any recovery that is achieved. This allows injury victims to better manage medical care expenses and lost wages. Hastings and Hastings also makes available to clients something known as a no fee promise. This promise states that if there is no recovery that the client simply pays no lawyer's fees.
Hastings and Hastings handles virtually every type of accident injury related situation. From motorcycle accidents to bicycle accidents and pedestrian accidents as well as slip and fall accidents and trucking accidents, the firm has been serving the residents of Arizona for more than three decades. As a trusted and respected Arizona consumer law firm, Hastings and Hastings has achieved impressive results over the years for clients thanks to the firm's aggressive discount fee structure. The firm originally began as a two-attorney practice and now has 11 offices conveniently situated across the state of Arizona. This recent announcement with regard to new demand for legal representation associated with boating accidents in 2014 is further proof that Hastings and Hastings has continued to garner the respect of clients over the years.
Hastings and Hastings is a leading provider of discount personal injury legal services located in and serving the greater Phoenix Metropolitan area. This respected legal firm specializes in assisting individuals that have been the victim of serious injuries that have resulted from accidents that were not fault of their own. Hastings and Hastings is a trusted group of attorneys that deliver personalized service and guidance for injury victims throughout Phoenix and all across the state of Arizona. Hastings and Hastings is known throughout legal circles as a dedicated team of professionals and a law firm that has been representing accident victims throughout Arizona for decades. Hastings and Hastings has consistently exceeds client's expectations with regard to representing a wide array of accident related injury victims at times when it matters the most and always doing so with discount attorney's Fees.