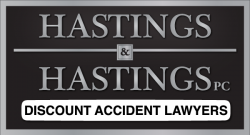 Phoenix, AZ (PRWEB) November 15, 2014
Hastings and Hastings, an experienced trial Law firm serving the greater Phoenix metropolitan area for more than 30 years announces new demanded 2014 for tripping accident injury legal representation. The firm has helped thousands of clients with a wide variety of cases including everything from SUV accident cases to motorcycle accident cases and dog bite related accident cases. In addition, Hastings and Hastings also routinely works with tripping related accidents that result in serious injuries and even loss of life. Other common cases include everything involving 18-wheeler trucking accidents and property damage as well as many other types of uncommon personal injury cases.
With a combined cumulative total level of experience that far exceeds over 150 years, Hastings and Hastings has earned its reputation for dependability and reliability one client at a time. The firm began as a two-attorney practice and has grown over the decades to become a law firm with multiple locations throughout Arizona with each location having multiple attorneys. This is an important consideration for those who have been injured through no fault of their own. This simply means that clients have greater accessibility to more attorneys throughout Arizona. This combined with the fact that Hastings and Hastings offers discount fees without discounting services means that clients can retain a greater portion of a recovery.
Hastings and Hastings understands that reputation matters and is proud of the fact that offers free consultations with a licensed lawyer. While many other law firms choose to have prospective clients meet with a sales person or staff paralegal, Hastings and Hastings chooses to provide clients with the best service possible. Known for a client friendly attitude and outstanding professionalism, the firm emphasizes compassion, advocacy, leadership and integrity. These core principles along with genuine discount fees have earned the firm its impressive reputation. Enjoying a large amount of referral and word-of-mouth business, the firm has a reputation that literally speaks for itself.
With some of the most discounted car accident and injury lawyer fees in the industry, Hastings and Hastings enables clients to enjoy a larger portion of a recovery. This is essential to ensuring that injured victims can recover quickly from an accident that was the result of someone else's negligence. In addition, when clients retain a larger portion of a recovery they are better equipped to handle a wide variety of medical expenses, ongoing medical care and long-term lost wages. Hastings and Hastings handles every case on a contingency fee basis so that clients can enjoy peace of mind. This recent announcement with regard to new demand in 2014 for tripping accident injury legal representation is further proof that Hastings and Hastings stands behind its promise of providing quality legal representation at discounted fees.
Hastings and Hastings is a leading provider of discount personal injury legal services located in and serving the greater Phoenix Metropolitan area. This respected legal firm specializes in assisting individuals that have been the victim of serious injuries that have resulted from accidents that were not fault of their own. Hastings and Hastings is a trusted group of attorneys that deliver personalized service and guidance for injury victims throughout Phoenix and all across the state of Arizona. Hastings and Hastings is known throughout legal circles as a dedicated team of professionals and a law firm that has been representing accident victims throughout Arizona for decades. Hastings and Hastings has consistently exceeds client's expectations with regard to representing a wide array of accident related injury victims at times when it matters the most and always doing so with discount attorney's Fees.