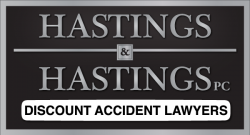 Phoenix, AZ (PRWEB) November 16, 2014
Hastings and Hastings, an Arizona law firm that offers discount fees on personal injury claims announces new demand for legal representation in 2014 for those who have been injured in the workplace. While safety is always a top concern in most corporations and businesses today, there has been a steady increase in accidents that result in injuries in the workplace. With that said, injury victims in Arizona have found that a discount accident attorney that helps clients retain a greater portion of a recovery is always just a call or visit away. Hastings and Hastings has earned its reputation for dependable and reliable representation one client at a time.
The firm understands that clients that have been through enough deserve a greater portion of their recovery in order to accelerate the healing process. From lost wages to recurring medical expenses and long-term medical care, providing clients with greater financial resources by allowing them to enjoy a greater portion of a recovery simply means better business. Getting back to what is important after an accident is best achieved by having the financial resources needed to handle inconvenient lost wages and mounting medical bills. Working strictly on a contingency fee basis, the firm's attorneys are only paid if a recovery is successful. If a case is not successfully resolved than the client simply owes no attorney's fees.
Another important distinction with regard to the Hastings and Hastings difference is that the firm works on a flat fee basis. This simply means that the fee that is quoted is the fee that is honored throughout the entire duration of a claim or case. While other firms may choose to modify a fee at some stage of the claim, Hastings and Hastings stands behind its promise of providing one flat fee that never changes. This includes cases that require going to trial. While many cases do indeed settle out of court, others require full litigation. Hastings and Hastings provides the same discounted fee structure regardless of the complexity of the case.
Hastings and Hastings offers a no fee promise. The no fee promise states that if there is no recovery that the client simply pays no fees. In addition, the firm even waives costs associated with preparing a claim if there is no recovery. From motorcycle accidents to automobile accidents and pedestrian accidents as well as slip and fall accidents, the firm has helped thousands of clients over the decades. Assisting clients in achieving a favorable outcome with regard to a recovery has always been the primary goal of Hastings and Hastings. This recent announcement with regard to new demand for legal representation in 2014 for those who have been injured in the workplace is further indication that Hastings and Hastings enjoys an outstanding reputation throughout the community and among clients.
Hastings and Hastings is a leading provider of discount personal injury legal services located in and serving the greater Phoenix Metropolitan area. This respected legal firm specializes in assisting individuals that have been the victim of serious injuries that have resulted from accidents that were not fault of their own. Hastings and Hastings is a trusted group of attorneys that deliver personalized service and guidance for injury victims throughout Phoenix and all across the state of Arizona. Hastings and Hastings is known throughout legal circles as a dedicated team of professionals and a law firm that has been representing accident victims throughout Arizona for decades. Hastings and Hastings has consistently exceeds client's expectations with regard to representing a wide array of accident related injury victims at times when it matters the most and always doing so with discount attorney's Fees.