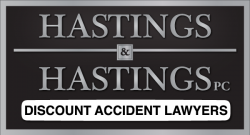 Phoenix, AZ (PRWEB) November 17, 2014
Hastings and Hastings, a Phoenix Arizona car accident lawyer with more than 30 years in the industry, reports new demand in 2014 for recreational vehicle accident injury legal representation. Those who have been injured through no fault of their own when operating a recreational vehicle often require the guidance and assistance of an experienced and dedicated team of professional attorneys. Hastings and Hastings has been providing the residents of Arizona with focused and dedicated personal injury attorney services at discounted fees for more than three decades. It is this level of commitment that has allowed the firm to enjoy an impressive reputation throughout the community, among peers and with previous and existing clients.
From pedestrian accidents to accidents that cause back injuries, spinal cord injuries and paralysis as well as go-kart accident that result in fractures, Hastings and Hastings has helped literally thousands of clients over the years achieve favorable results with regard to a recovery. Most importantly, Hastings and Hastings offers highly competitive discount attorneys fees on legal representation. This combined with the fact that the firm never compromises the quality of service in spite of the fact that it offers discounted fees has allowed the firm to continue to grow over the years. With 11 offices in the greater Phoenix metropolitan area, clients enjoy the freedom and flexibility to choose an office that is most convenient to their location.
Hastings and Hastings brings to the table more than a century and a half of combined legal experience in addressing a wide range of accident injuries. The firm understands the importance of helping clients recover as quickly as possible from injuries sustained in an accident that was caused by the negligence of another individual or business. In addition, Hastings and Hastings makes it its main objective to ensure that clients retain a larger portion of a recovery than would otherwise be possible. It is an aggressive discount fee schedule that makes this possible. When clients have access to greater financial resources by retaining a greater portion of a recovery they are able to better address a wide range of medical care expenses and lost wages.
Hastings and Hastings understands the importance of reputation and knows that a reputation is earned and not given. The firm has fostered and developed a favorable reputation with existing and prior clients and is known for its focused, dedicated and committed legal representation. Hastings and Hastings is a law firm that offers discounted fees where the service is never discounted. Bringing to the table decades of experience and personalized service means the clients can enjoy a greater level of peace of mind. This recent announcement with regard to new demand in 2014 for recreational vehicle accident injury legal representation is additional confirmation that Hastings and Hastings has only continued to improve its reputation throughout the community and among existing and prior clients.
Hastings and Hastings is a leading provider of discount personal injury legal services located in and serving the greater Phoenix Metropolitan area. This respected legal firm specializes in assisting individuals that have been the victim of serious injuries that have resulted from accidents that were not fault of their own. Hastings and Hastings is a trusted group of attorneys that deliver personalized service and guidance for injury victims throughout Phoenix and all across the state of Arizona. Hastings and Hastings is known throughout legal circles as a dedicated team of professionals and a law firm that has been representing accident victims throughout Arizona for decades. Hastings and Hastings consistently exceeds client's expectations with regard to representing a wide array of accident related injury victims at times when it matters the most and always doing so with discount attorney's fees.