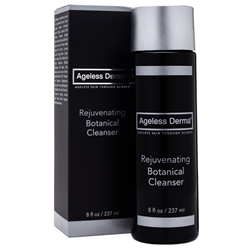 Irvine, California (PRWEB) November 17, 2014
The Ageless Derma Skin Care Company is excited to announce its latest development of an anti-aging cleansing gel that targets virtually any skin area for a deep cleansing result. Their Rejuvenating Botanical Cleanser is comprised of pure plant-based ingredients that go beyond simple cleaning to skin renewal and reinvigoration.
Rejuvenating Botanical Cleanser is nature-based, with ingredients that are comprised of botanicals and vitamins. The natural vitamins help heal inflamed skin conditions, especially targeting acne or blemishes that mar the complexion. Vitamins A, C, and E are incorporated into the Rejuvenating Botanical Cleanser as natural anti-oxidants for multiple activities. Vitamin C, ascorbic acid, lessens the formation of fine lines and wrinkles on the body and face, helps alleviate the damage done by sun exposure and protects against damaging free radicals. The Vitamin E, tocopheryl acetate, in Rejuvenating Botanical Cleanser soothes skin with renewed hydration. Vitamin E is also a free radical fighter and slows the wrinkling that occurs with sun exposure. The Vitamin A, retinyl palmitate, works on the entire body to thicken the skin's upper layer, improve elasticity, fix sun exposure damage, and stimulate the production of new collagen, imperative to a rejuvenated more youthful appearance.
Ageless Derma has also placed restorative extracts from nature in their Rejuvenating Botanical Cleanser. These include kiwi fruit extract, white grape fruit extract, rosemary leaf, humulus lupulus extract, citrus peel extract and honey. As with most Ageless Derma skin care products, Rejuvenating Botanical Cleanser contains no parabens or fragrances that may disturb those with sensitive skin issues. This gentle yet powerful gel cleanser for the whole body was specially designed with ingredients that are non-irritating and non-comedogenic.
The developers at Ageless Derma Skin Care know they are making something remarkable occur in the skin care world. Their line of physician-grade skin repair products incorporates an invaluable philosophy: supporting overall skin health by delivering the most cutting-edge biotechnology and pure, natural ingredients to all of the skin's layers. This approach continues to resonate even today with the company's founder, Dr. Farid Mostamand, who close to a decade ago began his journey to deliver the best skin care alternatives for those who want to have healthy and beautiful looking skin at any age. About this latest Ageless Derma cleanser, Dr. Mostamand says, "The Ageless Derma Rejuvenating Botanical Cleanser is made with pure fruit and plant extracts that work amazingly well to rid the body of toxins, grime and surface oils without any harsh chemicals disrupting the skin's natural balance of oils. This whole body cleanser can be used every day and is especially targeted for those with normal to oily skin types."
Ageless Derma products are developed in FDA-approved laboratories. All ingredients are inspired by nature and enriched by science. Ageless Derma products do not include parabens or any other harsh elements, and they are never tested on animals. The company has developed five distinctive lines of products to address any skin type or condition.