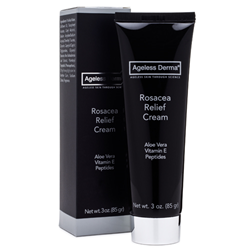 Irvine, California (PRWEB) November 19, 2014
The Ageless Derma Skin Care Company is proud to introduce its latest antidote to inflamed, reddened skin that results from those suffering from a skin condition known as rosacea. The Rosacea Relief Cream soothes the irritation, fights the reddened appearance, and reduces the inflammation that accompanies rosacea. This soothing cream accomplishes the reduction of symptoms using natural substances that are powerful yet non-irritating.
This latest addition to the Ageless Derma line of skin care products contains natural botanical elements that are known to calm and soothe skin, in addition to vitamins and peptides that protect against further harm. Rosacea Relief Cream is made using the all-natural and completely soothing aloe vera plant extract. Additionally, inflammation is reduced using vitamins and natural peptides, all rich in antioxidants that fight free radical damage.
The signs of rosacea include excessively reddened areas of the face, especially on the cheeks. Bumps or blemishes may be visible on the face, also. The main soothing ingredient in Rosacea Relief Cream is aloe barbadensis leaf extract. It has extremely effective anti-inflammatory abilities that directly fight these symptoms of rosacea. Aloe extract can also help stimulate the growth of new skin cells, thereby fixing already damaged skin tissue. A healthy sunny appearance and deep hydration is added to skin to replace reddened, inflamed complexions.
Rosacea Relief Cream is infused with Vitamins E and C. Vitamin E is a natural moisturizer, anti-oxidant, anti-inflammatory and skin-smoothing agent all in one. Vitamin E has long been known to help smooth away scarring and other skin imperfections. Vitamin C is placed in Rosacea Relief Cream for its protection against the sun's harmful UV rays, something that greatly aggravates rosacea conditions. The Vitamin C will also help in the prevention of wrinkling skin and fighting free radicals, altogether aiding in the rejuvenation of skin and keeping it younger and fresher looking.
The developers at Ageless Derma Skin Care believe they are making something extraordinary happen. Their line of physician-grade skin care items incorporates an important philosophy: promoting overall skin health by delivering the most cutting-edge biotechnology and natural ingredients to all of the skin's layers. This attitude continues to resonate to this day with the company's founder, Dr. Farid Mostamand, who nearly a decade ago began his journey to deliver the best skin care options for people who want to have healthy and beautiful looking skin at any age. About their latest product, Dr. Mostamand says, "Our Rosacea Relief Cream will alleviate the reddened skin that occurs with rosacea. The release of harmful proteases that can cause damage to the skin's very structure will be greatly reduced with twice-daily use of this effective cream."
Ageless Derma products are formulated in FDA-approved Labs. All ingredients are inspired by nature and enhanced by science. Ageless Derma products do not contain parabens or any other harsh chemicals, and they are never tested on animals. The company has formulated five unique lines of products to address any skin type and skin condition.