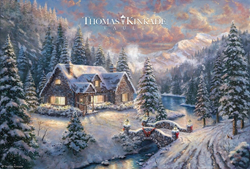 Thom loved spending time in the High Sierras. He sketched and painted many scenes from his time spent there with family. - Patrick Kinkade
MORGAN HILL, CA (PRWEB) November 18, 2014
The Thomas Kinkade Company times the holidays with a rare limited edition release entitled "High Country Christmas". The quintessential Kinkade painting includes many of the styles and techniques that originally endeared Thomas Kinkade to his collector base in the 1990s through the early 2000s. The newly released image is a classic composition with the main subject matter featuring a snow-blanketed lakeside cabin in the mountains surrounded by evergreen trees – all decorated with holiday lights and garlands. Kinkade's signature lampposts are incorporated lighting the way over a footbridge leading to the cabin from a forested mountain scape. Lit from within, the cabin harkens back to the Thomas Kinkade compendium of Christmas and holiday paintings that span over twenty-five years. "High Country Christmas" is a solid addition to the Master's great holiday works.
Patrick Kinkade, PhD, younger brother of the great American artist Thomas Kinkade, tells many family tales of adventures he and his brother had as boys growing up in the Sierra foothills. Patrick comments, "Thom loved spending time in the High Sierras. He sketched and painted many scenes from his time spent there with family. The Sierras were a great source of inspiration to Thom throughout his career".
This image is released from the Thomas Kinkade Vault and available in three sizes in limited release through authorized Thomas Kinkade Galleries in time for the 2014 holiday season.
The Thomas Kinkade Company has published the works of Thomas Kinkade and Thomas Kinkade Studios for over 25 years, during which Thom has become one of the most widely recognized and best selling artists in the world. His artwork is distributed through a network of authorized dealers and strategic relationships. The Thomas Kinkade Company and Thomas Kinkade Studios strive to carry on Thom's legacy, passion and his desire to bring joy into peoples' lives. For additional information on The Thomas Kinkade Company visit http://www.thomaskinkade.com.