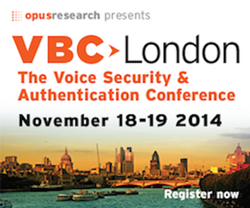 Success of voice biometrics to date speaks volumes about the ability of voice-based security to support secure, trusted commercial conversations at scale
San Francisco, CA and London, England (PRWEB) November 18, 2014
To kick off VBC London 2014: The Voice Security and Authentication Conference, Opus Research will deliver findings from the recently issued "Voice Biometrics Census: Global Tally of Voice Security and Authentication Implementations." This first-of-its-kind report is based on an aggregation of data from voice biometrics technology vendors and their customers, spanning over 10 years of deployments around the world, and draws a portrait of the successful use of voiceprints to authenticate telecommunications services subscribers, financial services clients, government pensioners and healthcare patients around the world.
"With more than 70 million 'protected customers' around the world, it's time to take stock of the implementation of voice-based security and authentication solutions," explains Dan Miller, Lead Analyst and Founder of Opus Research. "Success to date speaks volumes about the ability of voice-based security to support secure, trusted commercial conversations at scale."
Information to support the Census and Forecast was provided by the leading vendors of voice biometrics-based solutions, including Agnitio, Auraya (ArmorVox), Nuance Communications, ValidSoft and Voice Trust, as well as their go-to-market partners and others. The report takes stock of implementations and enrollments by geographic region, vertical industry and application domain.
Copies of the report are available for sale from Opus Research.
About the VBC London 2014
VBC London: The Voice Security and Authentication Conference is the leading industry venue to showcase a broad array of technologies that support simple, secure and trusted communications over the web, mobile phones and tablets. It brings together executives and decision-makers who are integrating voice into multi-layered and multi-factor communications for authentication and security.
About Opus Research
Opus Research is an advisory and analysis firm providing critical insight on software and services that support multimodal customer care. Opus Research is focused on "Conversational Commerce," the merging of intelligent assistant technologies, contact center automation, voice security and authentication, indoor location, enterprise collaboration and mobile commerce.