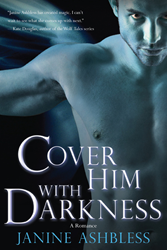 "Sharp and enticing."—Publishers Weekly
(PRWEB) November 14, 2014
The first book in Janine Ashbless's planned trilogy, Cover Him with Darkness, has been making waves on either side of the pond. What happens when the daughter of the village priest falls in love with an archangel banished from heaven? Milja's heart is struck when she catches a glimpse of the preternaturally beautiful prisoner her father keeps captive beneath his church's altar. Torn between tradition, loyalty and her growing obsession with the fallen angel, will Milja risk losing her family, and her eternal soul, for the love of this divine being?
Romantic Times Book Reviews has written "Be prepared for some rough, unorthodox sex in this page-turner. The ending to this wonderful book is a shocker, promising more to come. Be warned: Some readers may find this book sacrilegious."
In an interview with Dear Author, Ashbless discusses where she is planning for the series to go, and how she thinks people will receive a book with religion and sex as themes. "Religion is an intensely divisive subject and almost any opinionated treatment of the big questions of Good and Evil, sex and God in fiction is going to offend someone. So yes, I'm braced for pushback. In fact I welcome it as a sign that I've not written something too bland for argument; I've got under readers' skins and challenged their comfortable world views."
Cover Him with Darkness is the first novel from Tempted Romance, a brand new imprint of Cleis Press. Tempted Romance is dedicated to erotic romance, and will publish only the sweetest, smartest romance.