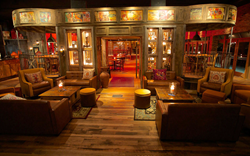 The Refuge has something for everyone
LONG ISLAND, Melville, NY, (PRWEB) November 18, 2014
A little bit of Latin with a little bit of Italian is what The Refuge Food and Spirits is all about. The 7,500 square foot restaurant, that opened in November, is located at 515 Broadhollow Road in Melville and features a modern twist of both Latin and Italian cuisine with a nod to the classics that came straight out of grandma's kitchen.
From the moment you walk through the door it's clearly evident that The Refuge is as much a social scene as it is a restaurant. Whether you're sitting in the dining room, at the bar or in the lounge, the entire building exudes an energy level that is both exhilarating and inviting. The brainchild of managing partner Jay Grossman, The Refuge was built for the masses to enjoy. "We wanted to create an accessible restaurant that would appeal to the corporate clientele that work on the Route 110 corridor, as well as serve the social dining scene for those who live in the area," he says.
The Refuge is open for lunch and dinner and is available for corporate events, bar/bat mitzvahs, sweet 16's, and holiday parties. Happy Hour from 4-7pm is perfect for those looking to unwind after work and enjoy the finest selection of craft beers on tap, great wines, and hand crafted cocktails. The menu highlights both Latin and Italian cuisine from artisan pizzas and hand rolled empanadas, to paella and seafood linguini. The Refuge has something for everyone. It is not easy to define and even harder to forget. Guests can spend time enjoying a fast lunch, a relaxing dinner or the happy hour sounds of a living jukebox playing into the night.
Speaking again about The Refuge accessibility, Grossman says "Even our wine list is structured to make The Refuge something for everyone. We tasted wine from all over the world and created an amazing list of over 60 bottles all priced under $50.00." Ray Sidhom property owner and partner at The Refuge echoes Grossman's enthusiasm: "We have created something really special, an amazing restaurant where you can talk business at lunch, catch up with a friend at happy hour or take the family out for a great dinner."
To learn more visit The Refuge online at http://www.refuge110.com