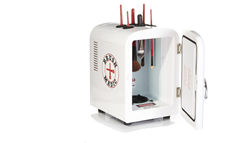 The Brush Medic Pro dries makeup brushes up to ten times faster than conventional drying and UV sterilizes them to 99.9% bacteria free
Sarasota, Fl (PRWEB) November 14, 2014
It's ironic that one of the things women rely on the most to help us look our best, may be our worst enemy when it comes to germs that can cause anything from pesky breakouts to some very serious skin infections. Most of us have heard some horrifying results of studies that test bacteria accumulation in makeup brushes. *One recent study found bacteria building quickly within the first week, doubling by the second week and then increasing to a number to high to measure within a month.Yet, according to the study's' survey, 72% of us don't wash our brushes. They go on to recommend that the average woman should deep clean their brushes with a water-based cleanser at least once a week. However, this becomes a hassle due to the time it takes most brushes to dry and be able to use again. Some Kabuki brushes can take 24 hours to dry.
Brush Medic has released a makeup brush dryer and UV sterilizing machine that is aimed at helping women properly care for their makeup brushes quicker and more effectively. "The Brush Medic Pro dries makeup brushes up to ten times faster than conventional drying and UV sterilizes them to 99.9% bacteria free" says the Brush Medic founder and CEO, Carla Jackson.
Cosmetic stores, beauty spas and makeup artists have an even higher degree of concern, due to the probability of transmitting germs and bacteria from client to client. Many facilities are already getting in line to own the Brush Medic to assure their clients that health and safety is their priority.
The Brush Medic Pro model is being offered exclusively beginning November 14th on Indiegogo for special pre-­order pricing, starting at $199 of limited quantities expected to ship in April 2015. Company representatives stress that supplies are limited for this offer and delivery date. The price of the machine will go up to $299 after the 45­ day campaign and will be available in select retail stores by June 2015. The company also offers a $69 Mini version, a wall organizer drying rack and a cleaning kit all available on Indiegogo or at: http://www.BrushMedic.com.
*Simonian, A., 2013, The Identification of Bacteria Found on Makeup Brushes, Loyola Marymount University, California.