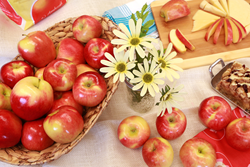 Survey respondents were asked whether they actively scan QR codes on packaging when making product selections.
WENATCHEE, WA (PRWEB) November 24, 2014
Columbia Marketing International Inc. (CMI), one of Washington State's leading growers, packers and shippers of apples, pears, cherries and organics, just completed a social media contest on a Facebook page created for Ambrosia™ apples.
2,100 people entered the contest that launched at the end of October and offered consumers the opportunity to win a crate of fresh Ambrosia™ apples, in addition to kitchen gadgets focusing on cutting and preparing fresh apples. An optional survey question about QR implementation on packaging was also included. The winner, Sheri Anderson of Chandler, AZ, was randomly selected on November 11, 2014.
"Survey respondents were asked whether they actively scan QR codes on packaging when making product selections," said Steve Lutz, Vice President of Marketing at CMI. "We hoped that the question would provide us with insight on whether consumer trends were climbing with QR code implementation, and whether this was still a worthwhile endeavor for us to pursue".
Results indicated that roughly half of consumers actively scan QR codes on packages, with 49.95% of consumers indicating that they use QR code readers on their handheld devices to learn more about the companies they are purchasing products from. 36.3% of respondents have never scanned QR codes and 13.75% were unsure.
"It could be assumed that those respondents unsure about their scanning behavior likely had not scanned a QR code before, thus roughly evening the results between those that actively scan QR codes and those that do not" said Lutz. "These results surprised us, as it appears through this survey that scan implementation is on the rise."
CMI plans on continuing consumer surveying through social outlets to better understand and respond to ever-changing consumer behavior. "With technologies changing so rapidly, having a firm grasp on consumer trends is vital for us to produce highly effective packaging that sells" said Lutz.
About Columbia Marketing International, Inc.
U.S. grown Ambrosia™ apples are exclusively distributed and marketed by Columbia Marketing International, Inc. (CMI). CMI is one of Washington State's largest growers, packers and distributors of premium Washington State fruit. In addition to Ambrosia™ apples, CMI is the exclusive grower of Daisy Girl Organics™ and Kanzi® apples; is one of three U.S. growers of KIKU® brand apples; grows and distributes Honeycrisp, Fuji, Gala, Jonagold, Cameo®, Golden Delicious, Red Delicious, Braeburn, Pink Lady®, Granny Smith and Grāpple® apples; and additionally produces an assortment of pears and cherries. CMI is dedicated to distributing premium quality fruit, including many organic options, throughout the United States and to international markets.