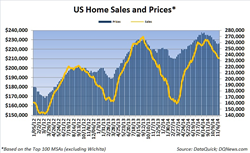 median home sale prices increased 0.4%
Chicago, Il (PRWEB) November 14, 2014
Peoples Home Equity was excited to see that for the first time 2014, weekly home sales are higher than last year.
According to Thursday's "National Home Sales Snapshot" by Dqnews.com, a real-estate data analytics company that records home sales for the past 30 days, showed that for 11/13 home sales week-over-week by -0.2%. However, on a year-over-year basis home sales have now increased from being down -0.6% on 11/6 to being a positive 0.3% on 11/13. This report marks the first time weekly home sales have been positive on a year-over-year basis. Peoples Home Equity has been waiting for this moment to happen for the entire year because sales have been really close to year ago levels throughout 2014 but never surpassed until now. Peoples Home Equity was hoping to see sales surpass 2013 levels during the summer but the surge in mortgage applications never arrived until Mid-September when the market seasonally slows. The cause of the surge in applications was due to a decline in interest rates. By the end of the summer Peoples Home Equity shifted its expectations to a seasonally strong housing market this winter, and that is exactly what's happening now. Not only have home sales surpassed year ago levels, but median home sale prices increased 0.4%. Peoples Home Equity expects both prices and sales to remain strong this fall because many more Americans are employed now. Wages are rising, and interest rates are remaining relatively low in relation to the historic average.
Now as more Americans are earning a livable wage since the housing crisis they have also built or re-built their credit history. While lending standards remain tight, more Americans are able to fit lenders credentials. Americans have buckled down and become more responsible with their finances over the past few years to finally afford a home loan.
Peoples Home Equity looks at every inch of an applicant's financial history before turning someone down for a loan. The loan officers at Peoples Home Equity really go the extra mile to try and get their applicants approved for loan.
Contact a Peoples Home Equity loan officer today at: 262-563-4026